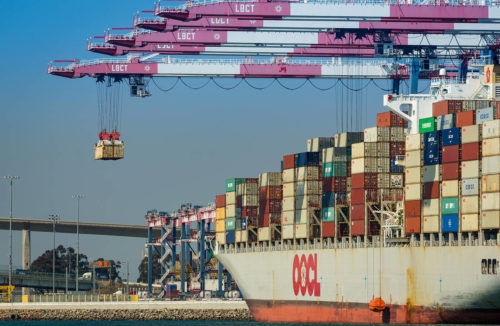 Cosco Shipping Ports Limited and Peruvian mining company Volcan have signed an agreement Monday in Lima to build the $3bn Chancay Multipurpose Port Terminal.
The signing ceremony of the agreement took place at the presidential palace with Peru's president Martin Vizcarra, the Peruvian Minister of Transportation, María Jara; the chairman of the board of Cosco Shipping Ports, Xu Lirong; and the vice president and general manager of Cosco, Zhang Wei.
The $3bn-megaport includes two specialised terminals, of which one will be a container terminal that will include 11 berths; and another destined for bulk cargo, general cargo and rolling cargo, with four berths.
Chancay, a natural port with a depth of up to 16 metres, is located 56 km north of Lima. It will become the first project controlled by Cosco in South America and will be able to receive the world's largest Triple-E-type vessels.
Volcan is a Peruvian polymetallic mining company for the exploration and production of zinc, copper, gold, silver, and lead in Peru's Sierra Central region. In addition to the mining business, the company also operates ports, logistics companies and hydroelectric power plants in the country.
The first stage of this project, in which Cosco Shipping Ports has 60% and Volcan the other 40%, will be developed in an area of 141 hectares. The execution of the Multipurpose Port
Terminal of Chancay is scheduled to be completed in a period of 28 months.
"[Chancay port] is an investment that [will] become a port 'hub' for all the demand, not only of the country, but of all the countries of the continent," said President Vizcarra during the ceremony at the Government Palace.
According to the president of the Volcan board of directors, José Picasso, the mega port of Chancay will be the "perfect gateway to the South Pacific region."
"I am convinced that the port of Chancay will serve as a platform to encourage development, drive the exit of more value-added products from Peru to the Chinese market and deepen the bilateral relationship to increase the welfare of both countries," he said.