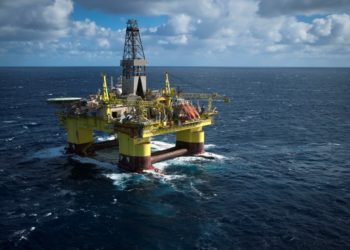 China Oilfield Services Limited (COSL) has reported a loss of RMB11.46bn ($1.66bn) in 2016 due mainly to huge impairments of approximately RMB7bn on the back of the weak offshore oilfield services market.
The loss of last year was a reversal of fortune from the profit of RMB1.11bn in 2015.
"During the year ended 31 December 2016, due to the continued deterioration of global oilfield services market and recent low level of oil price, the capital expenditure in global oil exploration and production sectors continuously declined and both the services prices and utilisation rates of the plant and machinery decreased," COSL stated.
The group made impairment on property, plant and equipment of RMB3.46bn, and impairment on goodwill of RMB3.69bn.
Full year revenue was recorded at RMB15.15bn, down 35.9% year-on-year.
The group operated and managed a total of 44 drilling rigs, comprising of 33 jack-ups, 11 semi-submersible drilling rigs, five module rigs and two accommodation rigs.
By the end of 2016, COSL had 18 drilling rigs operating in the China Sea, five rigs operating overseas such as in Norway, Mexico and Indonesia, 17 were on standby and four were being maintained in the shipyard. The calendar day utilisation rate of the rigs was 51.8%.
"In general, the oilfield services industry will still face with greater operating pressure in spite of the halting downward trend of capital expenditure of global oil and gas companies and the increasingly active tendering activities in oilfield services in 2017," COSL said.
The challenging conditions of the market led to disputes that saw the group's subsidiary COSL Offshore Management in January this year filed a $15.24m claim against Norway's Statoil over an altered drilling contract performed by drilling rig COSLPromoter.
COSL is already engaged in a legal tussle with Statoil after COSL Offshore Management filed an earlier statement of claim in December 2016 over the termination of another contract performed by drilling rig COSLInnovator.
Copyright Ships & Ports Ltd. Permission to use quotations from this article is granted subject to appropriate credit given to www.shipsandports.com.ng as the source.