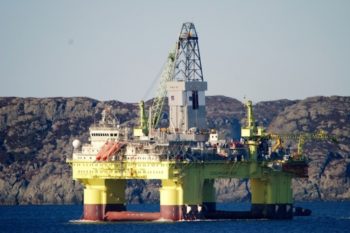 COSL Offshore Management, subsidiary of COSL Drilling Europe, has filed a statement of claim to Oslo's district court against Statoil demanding payment of around $15.24m over an altered drilling contract.
China Oilfield Services Limited (COSL), parent of COSL Drilling Europe, announced that Statoil has failed to settle payments due under a contract performed by drilling rig COSLPromoter.
COSL Offshore Management has claimed payment from Statoil of cost reimbursement and rate reductions happened in 2016 in amount up to $15.24m incurred as a consequence of compliance with requirements of Statoil.
Statoil had briefly halted operation of the rig COSLPromoter during the first two weeks of March 2016, only to resume the chartering contract after agreement was ironed out.
"As the claim has not been settled, on 20 January 2017 (Norway time), COSL Offshore Management has filed a statement of claim to Oslo District Court against Statoil requiring payment of the claim," COSL stated.
"The statement of claim is issued through Wikborg Rein Advokatfirma AS, an international law firm based in Norway, as litigation agent. Neither discovery nor the court hearing has commenced," COSL added.
COSL is already engaged in a legal tussle with Statoil after COSL Offshore Management filed an earlier statement of claim against Statoil in December 2016 over the termination of a rig chartering contract, performed by drilling rig COSLInnovator.
In March 2016, Statoil unilaterally terminated the drilling charter contract, claiming it has the contractual right to end the charter while COSL claimed that Statoil's move was "unlawful".
Copyright Ships & Ports Ltd. Permission to use quotations from this article is granted subject to appropriate credit given to www.shipsandports.com.ng as the source.