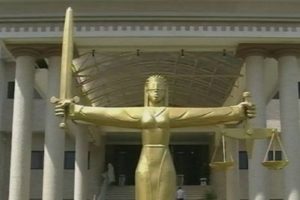 A Gudu Upper Area Court, Abuja, on Wednesday, ordered the remand of three men, Rev. Paul Audu, Joy Ugochukwu and Chief Sunday Edodagha for alleged 600,000 dollars fraud.
The judge, Mr Umar Kagarko, ordered their remand till May 17, based on the request of the prosecutor, who said granting them bail would frustrate ongoing investigations.
Kagarko added that their bail should come by way of motion.
The men are facing trial on a five-count charge bordering on criminal conspiracy, cheating, criminal breach of trust, criminal intimidation, among others.
Audu, 56, Ugochukwu, 43, and Edodagha, 27, all from Lagos State, denied committing the offences.
The prosecutor, Mr Umoh Inah, had told the court that one Chief Ralph Obi reported the matter to FCT Command on March 16.
Inah said that the complainant alleged that sometime in 2016, the defendants conspired, which led the complainant to transfer 600,000 dollars into the account of one of the defendants, Paul Audu.
According to Inah, the defendants had assured the complainant that within two days of the transfer, "the equivalent sum of N203million will be transferred to Mr. Ralph Obi.''
He said that after the defendants collected the money, they kept threatening the life of the complainant, with their gang members and other assassins who are now at large.
The prosecutor said that "the police are still tracking their operational hideout.''
He said that the offences contravened provisions of Sections 97, 322, 312, 397 and 177 of the Penal Code.