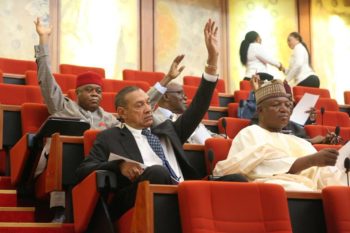 The Senate has called for the resignation of the Comptroller General of the Nigeria Customs Service, Colonel Hameed Ali (rtd), saying he is unfit to hold any public office.
The Comptroller-General of Nigerian Customs Service, Col. Hameed Ali (retd), on Wednesday failed to appear before the Senate, contrary to a directive of the upper chamber.
The senate had on Thursday asked Ali to appear before it at 10 a.m. on Wednesday in Customs uniform to explain the rationale for directing that vehicle owners should be pay duty on their cars.
Prompted by Ali's seeming disrespect by refusing to appear before the senate as directed, senators at exactly 10.32 a.m. went into a closed-door session apparently to assess the situation and make a resolution.
The senators had on Thursday, turned back the comptroller-general from the chamber for not appearing in uniform, and rescheduled his appearance to Wednesday, with definite position that he should appear in Comptroller-General of Customs uniform.
The senate had first invited Ali to appear before it on March 8 to brief it on the proposed policy for payment of Customs Duty by vehicles owners, no matter the age of the vehicle.
However, Ali did not honour the invitation on the ground that he had a management meeting. Not satisfied with the reason, the senate issued a warrant mandating Ali to appear on March 16.
But, on Tuesday, Ali told State House correspondents that he would not be at the senate, citing advice from the Attorney-General of the Federation (AGF) as reason for his decision.
He said that he had written to the senate on the development, explaining that a case had been instituted at the court on the matter.
He said the AGF wrote to him, asking him and all parties to stay action on his summon to appear at the Senate in uniform, pending the determination of an originating summons filed by one Mohammed Ibrahim.
A reliable source in the National Assembly that though the appearance of the CG was listed as the fourth item on Wednesday's Order Paper, he would not appear before the senate.
The item on the Order Paper was captioned "Briefing by the Comptroller-General of the Customs and Excise'' and slated to be moved by the Leader of the Senate, Sen. Ahmed Lawan.