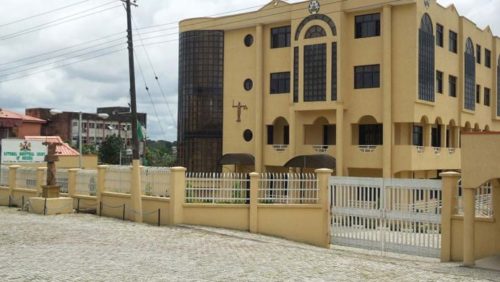 The National Industrial Court in Port Harcourt on Thursday struck out a case filed by dockworkers against Port Terminal Operators Nigeria Limited.
The trial judge, Justice Polycarp Hamman, stated that the decision was taken due to the failure of the claimants (the dockworkers) to prove that they were permanent workers of the company.
He specifically said that the inability of the dockworkers to provide their permanent employment letters left him with no other option than to dismiss the case.
The dockworkers had gone to the National Industrial Court in 2013, praying for an order that the defendant (Port Terminal Operators Nigeria Limited) to pay them all their entitlements based on the payment of N33,000 minimum wage approved for dockworkers by Federal Government.
But Justice Hamman held that that the sacked workers were not able to prove that there was a relationship between them and the organisation they took to court.
According to him, what the workers submitted to the court were temporary appointment letters as against permanent appointment letters from the company.
He maintained that the court could not grant them their prayers for the payment of the new minimum wage based on the temporary letter of appointment they submitted.
The judge, however, did not award any cost against the parties involved in the matter, adding that the claimants (dockworkers) have the right to go to court despite failing to stick to the remediation clause in the agreement between them and the company.
Counsel for the dockworkers, Uche Ogwudu, said the judge's decision to strike out the suit was based on the inability of his clients to produce permanent appointment letters.
Ogwudu added that he would advise his clients on the next line of action after he must have studied the court's ruling on the matter.
In his remarks, counsel for the defendants, Angus Chukwuka, hailed the court's ruling, describing it as a welcome development.
Chukwuka noted that the failure of the sacked dockworkers to produce their permanent employment letters before the court made their prayers inefficient.
However, one of the claimants, Samuel Ochegba, said the judgment was unacceptable and insisted that they would take the matter to the Appeal Court.    
Copyright Ships & Ports Ltd. Permission to use quotations from this article is granted subject to appropriate credit given to www.shipsandports.com.ng as the source.