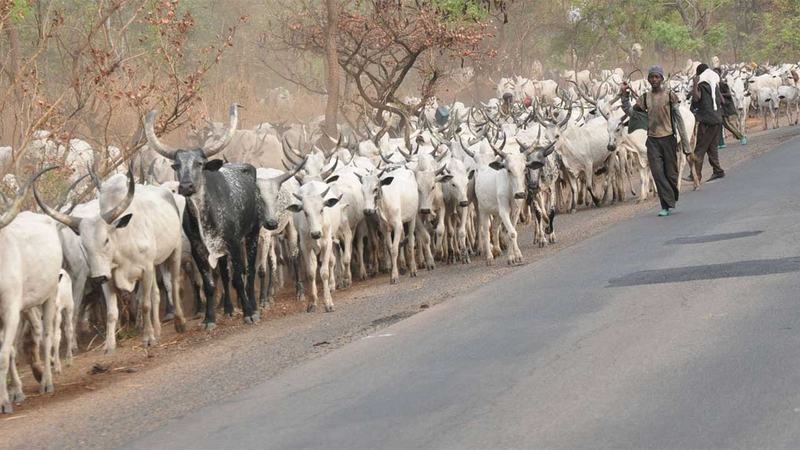 Some cows invaded the premises of the Akure Airport, Ondo State on Saturday preventing an Air Peace flight from landing.
The incident, which occurred around 12pm, took those at the airport by surprise.
It took the intervention of officials of the Federal Airports Authority of Nigeria (FAAN) and other security operatives to clear the runway for safe landing.
Ekiti State Governor, Ayodele Fayose, who witnessed the incident, said he was waiting to board an aircraft to Lagos when it happened.
He said the cows overtook the airport runway and delayed the aircraft, which belongs to Air Peace Airline, from landing for about fifteen minutes.
Writing via his Twitter handle, Fayose said, "Today, while at the Akure Airport to board Air Peace commercial flight to Lagos, I witnessed cows taking over the airport runway and preventing aircraft No. 5NBQQ from landing for more than 15 minutes. Thanks to Capt Inyang for saving the lives of the passengers."
The spokesman of Air Peace, Chris Iwarah, spokesman of the airline, confirmed the incident in a statement.
"We confirm that flight P4 7002 from Lagos had to delay landing into Akure Airport today (Saturday) when the pilot-in-command sighted cows on the runway at about 12.15pm," he said.
"On being alerted by control tower, aviation security personnel of the Federal Airports Authority of Nigeria (FAAN AVSEC) quickly intervened and cleared the runway.
"The flight was eventually cleared to land after about seven minutes. Our guests on board were all calm while the delay lasted. The aircraft departed for Lagos at about 1.06 with full escort from FAAN security personnel."  
FAAN has however apologised to Air Peace Airlines and its passengers for the incident.
FAAN issued the apology in a statement signed by its General Manager, Corporate Affairs, Mrs Henrietta Yakubu in Lagos on Saturday.
Yakubu confirmed that the Air Peace flight, which left Lagos for Akure could not land immediately as some cows strayed onto the runway of the airport.
She said, "However, normalcy was restored quickly, as officers of the aviation security department quickly dispersed the cows from the runway and the aircraft was cleared for landing.
"The authority will like to assure travellers and the general public that efforts are already ongoing to close the gap that aided this incident." 
Copyright Ships & Ports Ltd. Permission to use quotations from this article is granted subject to appropriate credit given to www.shipsandports.com.ng as the source.