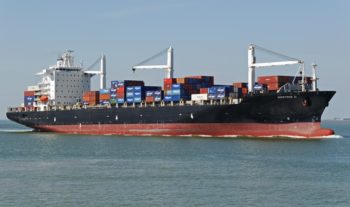 By Jite Eriabie 
Italian authorities seized up to 300 kg of cocaine from a containership berthed at the Port of Genoa, according to a statement issued by the county's police department.
The crew of the 3,430 TEU Dimitris C found the drugs following a search on February 15, Danaos Shipping, the ship owner, said in a separate statement.
As explained, the search is carried out by the crew upon arrival and after departing from ports with increased probabilities of substances trafficking. The discovery was immediately reported by the Master to the company and the authorities.
Genoa police department said the cocaine was hidden in some 20 plastic bags in a remote place on deck.
Dimitris C, already a subject of investigations by the country's authorities, was monitored with the coast guard's vessel tracking service when it was about 10 miles from the Port of Genoa, according to the police.
The police stressed this has been the largest seizure of cocaine in Genoa so far. Its commercial value is estimated at around EUR 15 million (USD 18.7 million).
The vessel is currently berthed at the Port of Genoa under the control of the country's authorities.
A few months earlier, drugs were found on the same ship at the Port of IIo, Peru. The package was hidden in a void space on the deck between two holds.
The ship's crew members, who found the drugs, were interrogated by the local prosecutor, only to be released without charges as they were found to be innocent. 
Copyright Ships & Ports Ltd. Permission to use quotations from this article is granted subject to appropriate credit given to www.shipsandports.com.ng as the source.