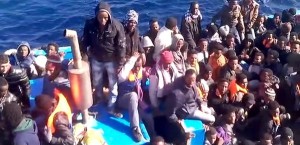 Italy's Finance Guard said Thursday it had busted an international migrant smuggling ring that had brought Syrian, Iraqi and Somali people into Italy illegally.
Six Italians have been arrested and a European arrest warrant is being issued for a seventh, a Greek of Iraqi origin, the Finance Guard said in a statement.
According to police, the seven suspects are the ringleaders of a 26-member criminal organization made up of veteran cigarette smugglers from the southern region of Puglia, working with accomplices in Albania, Greece and Montenegro.
They charged migrants 4,500 euros (5,330 U.S. dollars) each to ferry them across the sea from the Greek coast to Puglia, according to the statement.
The seven suspects face charges of aiding and abetting illegal immigration, aggravated by the profit motive and by exposing their passengers to life-threatening danger.
Police said they intercepted six people-smuggling trips involving 150 migrants and asylum seekers between August 2014 and June 2015.
Italy's Finance Guard, a military police corps dealing with financial crime including trafficking and contraband, has been tasked since 2016 with fighting illegal immigration by sea.
According to Europol's European Migrant Smuggling Center (EMSC), 90 percent of irregular migrants turn to criminal organizations to facilitate their journeys to Europe.
Tackling this multi-billion-euro trade is an essential part of the European Union's (EU) response to the migrant crisis, according to the EMSC, which was set up in February 2016 in response to the unprecedented increase in the number of irregular migrants arriving in the EU since 2014.
Agency Report