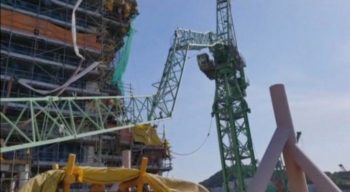 South Korean police officials have raided a number of Samsung Heavy Industries' offices in the aftermath of a crane incident which caused the deaths of six workers at the shipyard's Geoje facility on May 1, Yonhap News Agency cited relevant authorities.
Up to 30 investigators were reportedly sent to collect workbooks and manuals on safety regulations and education from five of SHI's offices in order to analyse the materials and investigate any potential negligence which could have led to the fatal incident.
Yonhap informed that the authorities would focus on possible errors in communication, working conditions at the site as well as mechanical issues.
Following a collision between two cranes at the Geoje yard, a structure fell from one of the cranes taking the lives of six workers and injuring over 20 more workers at the site.
At the time of the incident, the shipyard was finishing the construction of an oil platform for a French energy company.
The Korean government ordered SHI to halt all operations at the site and an investigation into the causes of the collision and collapse was launched earlier this week.    
Copyright Ships & Ports Ltd. Permission to use quotations from this article is granted subject to appropriate credit given to www.shipsandports.com.ng as the source.