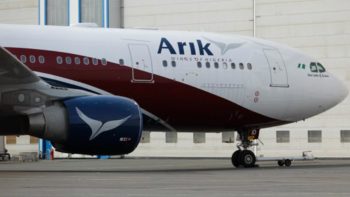 Indications emerged on Sunday that Arik Air's international financiers and other creditors had concluded plans to sue the Federal Government over the airline's indebtedness.
A source, who disclosed this, said the creditors were putting their resources together to file a suit against the government for the airline's failure to honour its international obligations.
It was gathered that Arik Air had no financial account since 2015 and had not paid taxes or remitted staff pension deductions for over two years, while new debts were mounting regularly.
The source said a clearer picture of the situation would be made known after KPMG's submission of its forensic audit report of the carrier in the next few weeks.
The airline is said to owe European aviation agencies and service providers about $11m, and Lufthansa Technique, $20m.
Since the takeover of the airline by the Asset Management Corporation of Nigeria, operations and flight services had been scaled down from over 100 daily to about 15 presently.
One of the sources said, "Out of 28 operating aircraft, only eight are now in operation, which include two Bombardier CRJ 900, one Bombardier Q400 and five Boeing 737. The Q400 is in a dedicated service with Chevron, so the airline has seven operating aircraft.
"This has forced Arik to cut back its domestic and regional operations and suspend international services immediately after the takeover."
Although AMCON said confidence was returning to the airline, an employee who spoke on condition of anonymity, said long before the takeover, passengers had lost interest in travelling with the airline and it would take time to win them back.
"Passengers would rather chose other airlines than come to Arik. On Saturday, we operated to Benin from Lagos with only 18 passengers going and on the return leg. It is only Port Harcourt service that we still have reasonable number of passengers," the source added.
AMCON said in a statement on Sunday that the Capt. Roy Ilegbodu-led management, under the receivership of Oluseye Opasanya, was already surmounting the problems it inherited in the airline to stabilise operations with the few aircraft on the fleet.
It stated that the average on-time-performance of Arik Air to different destinations had improved; banks that hitherto turned their backs on the carrier were now cooperating and supporting the new management; engagement with international and local creditors had been successful; just as discussions with critical service providers and industry stakeholders had yielded positive results.
The statement noted, "Arik has also paid the insurance premium, which was on the verge of expiring had AMCON not taken over on February 9, 2017. Arik has also commenced the payment of outstanding salaries, which have greatly boosted staff morale as well as performance. Arik is in discussion with different creditors and stakeholders to recall a good number of aircraft into the fleet as soon as possible, which will increase the number of daily flights.
"Aside from that, a good number of affected passengers have been refunded, while efforts are on to reach out to those yet to get their refund as a result of suspension of flights to some routes."
Copyright Ships & Ports Ltd. Permission to use quotations from this article is granted subject to appropriate credit given to www.shipsandports.com.ng as the source.