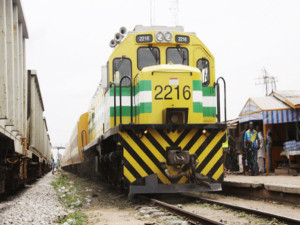 The Nigeria Union of Railway Workers (NURTW) has appealed to the Federal Government to withhold its planned concession of the Nigeria Railway Corporation (NRC).
The Secretary General of the union, Segun Esan, told journalists on Thursday in Lagos that there was no reason to defend privatisation and concessioning as policy of economic development.
Esan said that concession has simply reinforced underdevelopment, encourage massive unemployment, with massive corruption and social inequality.
According to him, systems threaten the security and corporate existence of the country since inception of its implementation in the country.
"The policy has been consistently observed that assets of privatised enterprises have been deliberately undervalued.
"There has been no due process with high level collusion between the authorities and the companies that bought the privatised enterprises, leading to failure to pay over the appropriate monies to government coffers.
"The Bureau of Public Enterprise (BPE) has also failed to exercise its oversight functions on the privatisation process," the unions regretted.
He described the policy as an abuse of due process characterised by corruption which has affected the outcome of the exercise.
According to him, the privatisation of the power sector offers another insight into the failure of the system and the fraudulent actions surrounding it.
Esan said that government has also injected huge capital into the sector without corresponding results.
He appealed to the federal government to withdraw its planned concessioning of the corporation to help safeguard selling public asset without appropriate technical valuation with labour disengagement.
The House of Representatives had at its plenary on Oct. 25, moved to investigate the planned concessioning of the Nigeria Railways Corporation to General Electric to avoid violating Nigeria's privatisation laws.
The lawmakers also looked into the moves by the Federal Executive Council (FEC) to concession the Western (Lagos-Kano) and Eastern (Port Harcourt- Maiduguri) rail lines to GE without recourse to the Bureau of Public Enterprises and Privatisation regulations.
Copyright Ships & Ports Ltd. Permission to use quotations from this article is granted subject to appropriate credit given to www.shipsandports.com.ng as the source.