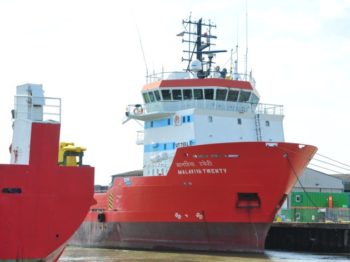 The crew of the Indian-owned vessel Malaviya 20 abandoned in Great Yarmouth, UK, in June last year have been paid and have finally headed home according to the International Transport Worker's Federation (ITF).
The vessel first arrived in Great Yarmouth in June 2016 and was detained by the Maritime & Coastguard Agency (MCA) mainly over unpaid wages. Some of the wages were paid and some of the crew repatriated, however 12 remained, and after nothing happened.
"So in December we arrested the vessel on the crew's behalf. The bank, which owned the ship, contacted us and sent a representative over to meet with the ITF in January. They agreed to pay all owed wages to the crew currently on the vessel and those who had left earlier," said ITF inspector Paul Keenan.
A total of $689,679 in back wages were paid on 17 February, the payments for 33 crew dated back to October 2015.
"Thanks to their determination, the support of the local community and port chaplain, organisations such as the MCA, and the ITF itself, the men have finally achieved justice. In the time when they were abandoned some had taken loans out so that their families could survive," Keenan said.
The 12 remaining crew (pictured) began their journey home on Tuesday.
A sistership Malaviya Seven remains detained in Aberdeen and the ITF said it was moving to arrest the vessel on the crew's behalf in order to secure for them the wages and tickets home to which they too are entitled.
Copyright Ships & Ports Ltd. Permission to use quotations from this article is granted subject to appropriate credit given to www.shipsandports.com.ng as the source.