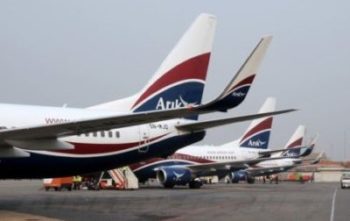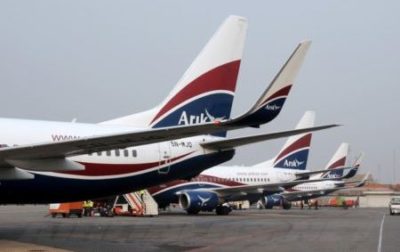 Barely two weeks after the Asset Management Corporation of Nigeria (AMCON) took over the management of Arik Air, the airline has begun paying workers' salaries and has paid its insurance premium, which was on the verge of expiring before the takeover.
AMCON had taken over the management of the troubled carrier on February 9, 2017, while the insurance premiums were set to expire on Sunday, February 12, 2017.
A statement by AMCON spokesperson Jude Nwauzor said that the takeover by the company had also restored public confidence in the airline.
Nwauzor said Arik Air has commenced the payment of outstanding salaries, which has greatly boosted staff morale as well as performance.
He added that the new management was also in discussion with different creditors and stakeholders to recall several aircraft into the fleet as soon as possible, which he said would further increase the number of daily flights operated by the airline.
"Aside from that, a good number of affected passengers have been refunded while efforts are ongoing to reach out to those yet to get their refunds as a result of the suspension of flights to some routes. A lot of positive and cheery developments have returned at the airline.
"Although the airline now managed by Capt. Roy Ukpebo Ilegbodu, under the receivership of Oluseye Opasanya, was confronted with a barrage of challenges created by the sacked Arik Air management, they have been able to eventually surmount the problems to stabilize operations with the few aircraft on the fleet," he said.
He explained that average on-time performance (OTP) of Arik Air flights to different destinations has improved while Nigerian banks that hitherto turned their backs to Arik now cooperate with and support the new management.
Nwauzor further declared that engagement with international and local creditors has also been successful, and discussions with critical service providers and industry stakeholders have yielded positive results.
"As a result of these positive developments, customers of Arik, especially from the corporate circle, are gradually coming back with assurances of stable and professional management with an improving performance record within a short period, which is buoyed by the fact that Arik has an unparalleled safety record that speaks for itself in the history of aviation in the country.
"The new management of the airline under the auspices of AMCON has held a series of fruitful engagements with major suppliers of aviation fuel (ATK) and has reached agreements for regular supplies of the product to Arik, which has guaranteed regular flights," he added.
Copyright Ships & Ports Ltd. Permission to use quotations from this article is granted subject to appropriate credit given to www.shipsandports.com.ng as the source.