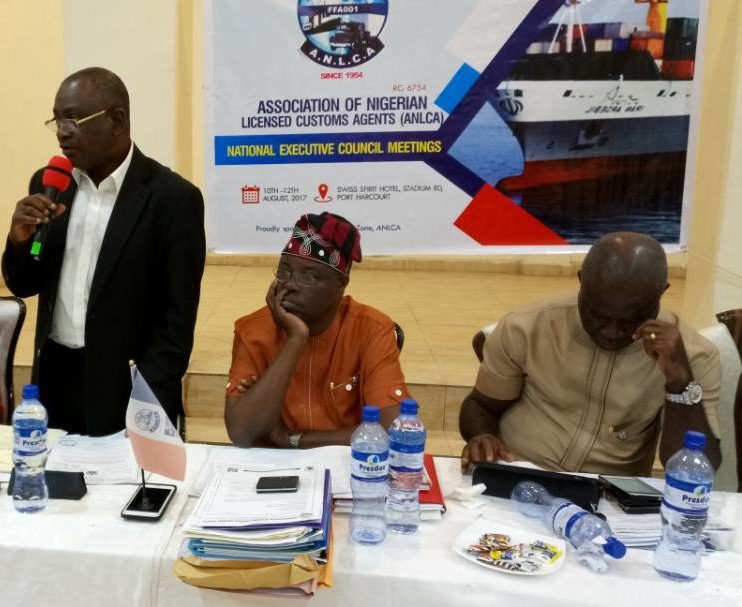 Realising that it would be difficult to collect the controversial professional operating fee (POF) at the seaports, airports and border posts without the support of the Association of Nigerian Licensed Customs Agents (ANLCA), the Registrar, Council for the Regulation of Freight Forwarding in Nigeria (CRFFN), Sir Mike Jukwe on Thursday stormed a meeting of the association to beg its members to shift their grounds.
"After daring us and thinking that he could ride roughshod over our association, it has suddenly dawned on him that the POF cannot happen without ANLCA so he rushed from Abuja to our National Executive Council meeting (NECOM) in Port Harcourt to beg us to support the collection," a member of ANLCA who was at the meeting informed SHIPS & PORTS DAILY.
It may be recalled that ANLCA recently accused Jukwe and the Minister of Transportation, Rotimi Amaechi, of flouting a court order, which issued an order stopping collection of the controversial POF.
ANLCA said the fee will increase the cost of doing business at the port, and that its collection amounts to violation of an order of a Federal High Court sitting in Lagos, which had directed that status quo be maintained pending determination of a case instituted by the association.
"It is contempt of court for the Honourable Minister and the CRFFN Registrar to commence collection of POF. We have been informed that the Minister has sent a letter to terminal operators to collect the fee for CRFFN but we will not hesitate to use any legal backing to stop this illegal collection," ANLCA National Publicity Secretary, Prince Kayode Farinto had informed SHIPS & PORTS DAILY recently.
CRFFN is expected to rake in as much as N10 billion annually from the imposition of N1,000 on every imported twenty-feet container and N2,000 on every forty-feet container. CRFFN will also collect N1,000 per truck load of general cargo, N500 per imported car and N1,000 on other types of imported vehicles.
However, ANLCA's opposition has stalled collection of the fee.
ANLCA officials however reportedly gave Jukwe conditions under which they will back the POF collection.
The major condition, according to a source, is the constitution of the CRFFN Governing Council.
Copyright Ships & Ports Ltd. Permission to use quotations from this article is granted subject to appropriate credit given to www.shipsandports.com.ng as the source.