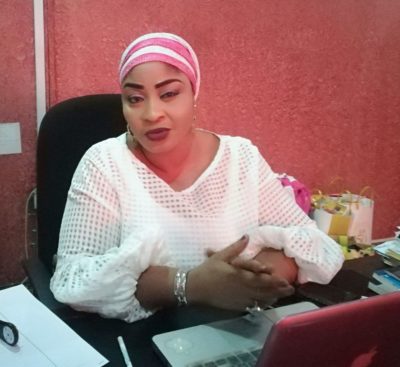 Hajia Bola Muse is the Managing Director/ Chief Executive Officer, Bomorah Group. In this interview with Shulammite 'Foyeku, she appraises Prince OlayiwolaShittu's eight-year tenure as National President of the Association of Nigerian Licensed Customs Agents (ANLCA) and surmised that Shittu remains the best the association has ever had.
Excerpts:
How would you describe Prince OlayinwolaShittu?
I thank God for the day I met Shittu. Since we met, he has been playing a fantastic role in my life, especially in our field. Apart from being our President in ANLCA, Shittu is highly respected and intelligent; a man that I will always want to associate with. He is a good leader, in that he brought sanity to ANLCA. He is somebody that can regulate a home. To sum it up, give him Nigeria to run, he will run it well without mincing words.
How would you assess the eight- year tenure of Shittu as ANLCA's President?
Shittu's performance as President of ANLCA has been fantastic. I always tell people who care to listen that Shittu brought ANLCA to limelight. If not for him, I don't think we will be where we are today. We were not like this years ago. ANLCA was an all comer's affair, but when Shittu came in, everybody keyed into his vision. This is why ANLCA is what it is today. It was during his tenure that we built our secretariat unlike before that we were using rented apartments with no kitchen let alone toilets. He rebranded our profession to the extent that people no longer see customs brokers as touts but as professionals. I commend him especially for the Biometric ID card initiative because it was not easy. We have a lot of touts denting the image of the association and as a result, people regarded clearing and forwarding agents as touts because most of them don't own licenses. But with the Biometric ID card, the real agents have now been separated from the touts and we now know who is who. Shittu organized a lot of seminars, registered us and took us far and wide. We are now members of the International Federation of Customs Brokers Association (IFCBA) and other international freight forwarding associations. Shittu has also played a big role in giving women opportunities in ANLCA. It was during his tenure that we had the women's wing in ANLCA. Without giving his consent and constant encouragement, I don't think the women's wing of ANLCA will be what it is today. In my opinion, Shittu has done a lot in ANLCA and the freight forwarding profession in Nigeria of which I thank him.
Some say Shittu is tribalistic, do you share same view of him?
No, he is not. If Shittu is tribalistic, I don't think the women's wing in ANLCA will be in existence today. The workers we have in our secretariat including members of the Board of Trustees (BOT) are a mixture of tribes. In fact, most of his staff in Port Harcourt are Igbos. Shittu is a type of person that does not wait for someone to carry out his duties but he still carries everybody along in all he does irrespective of their tribal affiliations. He is a team player.
 In what areas do you think Shittu should have done better? 
You know everybody have their shortcomings but Shittu's antecedents are more than his shortcomings. I only wished his executives had worked more with him, things would have been better. He can't be everywhere at the same time. He needs to delegate, but I know his performance is more than his shortcomings.
Some claim that apart from the permanent secretariat Shittu acquired for ANLCA, he did not perform well in administrative and operational roles. What is your take on that?
I told you earlier that people are entitled to their opinion. But my opinion is that Shittu performed and tried his best both administratively and operationally. Operationally it would have been more if there was team work and we wouldn't have had issues with agents, customs and shipping companies. I hope the new President will take it up from there so that there will be a balance.
What do you think created the good image for ANLCA?
There are lots of things that cause trouble when you have an association. Not everybody agrees with what you intend to do for the association. You do know that ANLCA is not a one-man show, it is a body and there is a law that governs us. It is not what Shittu says but what the constitution says. So it is our professionalism that created the image for ANLCA. Stakeholders' engagement and being able to carry people along made ANLCA unique and number one among other associations. Today, ANLCA is the most recognized association. The Nigeria Customs Service for example, recognizes ANLCA more than any other association, and these associations see us as a role model and even the industry stakeholders recognize us.
What is your relationship with Shittu?        
Shittu is an icon and mentor to me. Apart from the fact that we are both from Oyo State, Shitu is a person I look up to in the freight forwarding industry; I respect him a lot. He is a very simple man if you understand him and he enjoys his privacy. You will notice that throughout his tenure, his family life did not interfere with his role as President of ANLCA.
What is that legacy of Shittu as ANLCA President you love and want the incoming President and his executives to continue with?
You know Shittu is ever ready and always on the move. Up till now he still pays the salary of secretariat staff when there is no money in the association's coffer. Why I didn't mention it earlier is because even me as the women leader in ANLCA, I bear a lot of financial responsibilities. When you are a leader and you want things done, you just have to sacrifice. Shittu sacrificed a lot for ANLCA. The new President should be ready to move in that direction. Come what may, he should create time from his busy schedule to attend to association matters. Good enough, he has a great team of executives who know their onions, what to do at any given time and with his support, ANLCA will continue to soar high.
Do you think the incoming President will be able to make that kind of sacrifice for ANLCA?
Of course he will. I trust him and I know he will even do better.
What will you remember Shittu for? 
A lot. Shittu gave women in ANLCA a voice and he encouraged us to join various women association such as Women International Shipping and Trading Association in Nigeria (WISTA), Women in Logistics and Transport (WILAT) and others. Before then, nobody knew us but today the women in ANLCA are known in the industry. I remember when I went to him and told him, Sir, can we try this? He said Bola, if you can do it; I am giving you all the support you need. He was the one that suggested the name 'Women in ANLCA' to us. When I told him pioneer President of women in ANLCA, he said why pioneer President because I cannot designate myself as President when ANLCA has a President and he suggested the designation 'Governor, Women in ANLCA'. So he is always there handing down one advise or another, apart from the fact that he is like a brother to me. I am going to miss him but I find consolation in the fact that I can always reach him. I pray for him and want Allah to continue to be with him because I was at the secretariat the other day and I felt like crying. When I entered his office, everywhere was empty and I said so soon?  Why do you have to remove your things? And he said, Bola it's time, let the incoming president come fill up the place. I wish him best of luck and hope he becomes one of our BOT members so that we will continue to feel his impact. Although, the new President has been an active member of ANLCA for long, but now, as President there may be some things he might not know, that Shittu will be able to put him through if he is around because he told me he is retiring to his farm and to rest too. May Allah bless him, his entire family and I thank his wife, who I call aunty because she is a fantastic woman. Without her support, Shittu would not been able to take ANLCA to where it is today.
Among the past Presidents of ANLCA, would you say Shittu is the best?
He is different and the best because if you compare the past Presidents' tenures and the situation of the country then, and now, you will agree with me that ANLCA made good  progress during Shittu's tenure as President.
Copyright Ships & Ports Ltd. Permission to use quotations from this article is granted subject to appropriate credit given to www.shipsandports.com.ng as the source.