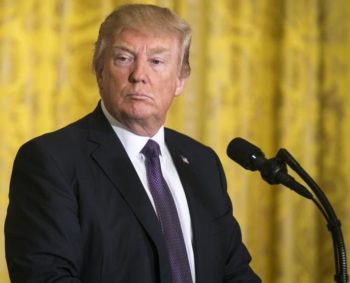 By Jite Eriabie  
U.S. President Donald Trump said on Sunday that the major hurricanes hitting the United States in recent weeks have been a great "branding" opportunity for the U.S. Coast Guard.
Trump made the off-the-cuff remarks while speaking to reporters upon his return to the White House from Camp David, where he had been monitoring Hurricane Irma over the weekend.
"I'll tell you what, we have great people, and a group that really deserves tremendous credit is the United States Coast Guard. What they've done, I mean, they're going right into that, and you never know. When you go in there, you don't know if you're going to come out. They are really – if you talk about branding, no brand has improved more than the United States Coast Guard."
The comment left many on social media wondering what exactly Trump meant by "brand". Several Americans took to their twitter handles to query their President's comment. 
"I retired from the US Coast Guard. Our brand was already fine," Jeff Charló said on his twitter handle, while Maggie Haberman asked, "Was something wrong with the Coast Guard brand before?" Haberman later twitted that 
Eric Smathers said the United States Coast Guard "is not a BRAND". 
You may recall that Trump sought to make major cuts to the U.S Coast Guard's 2018 budget despite an overall boost in military spending and additional funds for the proposed border wall and border agents.
In May, Trump was criticized for his commencement address to the 2017 graduating class of the U.S. Coast Guard Academy, in which he famously proclaimed that "No politician in history — and I say this with great surety — has been treated worse or more unfairly."
In the same speech Trump also referenced how much money he saved "you" on the F-35 fighter jet and and Gerald Ford aircraft carrier, as well as his accomplishments with reference to American jobs, his pick for Supreme Court justice, securing the border, saving the Second Amendment, his planned tax reform and healthcare, and an upcoming trip to Saudi Arabia, where he was to speak to Muslim leaders about stopping "radical Islamic terrorism."
With all this in mind, the comment about branding makes you wonder if Trump is just now starting to appreciate or even realize the important role of the United States Coast Guard – one of the five branches (brands?) of the U.S. military to which Trump is Commander in Chief.
In Trump's defense, however, it does seem like the U.S. Coast Guard did a heck of a job in carrying out rescues and re-opening ports along the Texas coast in the aftermath of the Hurricane Harvey in August. And, although the response is still unfolding, it seems like the Coast Guard's response to Hurricane Irma is no different.
But this should come as no surprise. After all, Semper Paratus is the Coast Guard's motto.  
Copyright Ships & Ports Ltd. Permission to use quotations from this article is granted subject to appropriate credit given to www.shipsandports.com.ng as the source.