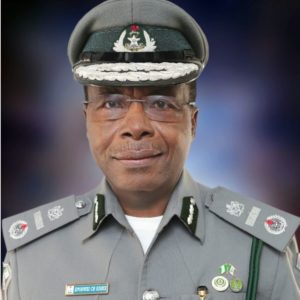 Zonal Coordinator in charge of Zone 'A' of the Nigeria Customs Service, Assistant Comptroller General of Customs (ACG) Charles Edike has reiterated the need for importers to take full advantage of the provisions of the Pre Arrival Assessment Report (PAAR).
Speaking in a goodwill message at a one day lecture with the theme 'How to Improved Maritime and Allied Industries Revenue in a Depressed Economy' organised by the League of Maritime Editors in Lagos on Thursday, Edike said PAAR was created by the Service as part of effort to reduce cost of doing business at the ports as it allows importers to complete their customs documentation before arrival of their cargo.
He however noted that rather than process their documentation ahead, importers would have gone ahead to order for their consignment before they begin to go to bank to process Form 'M' and go to Customs portal thereby causing delay.
While advising importers to always make genuine declaration, Edike said false declaration of imports has robbed many importers off the benefit of the PAAR scheme.
He said, "PAAR is a very good instrument that the present administration brought in to reduce cost of doing business in our port and time of doing business in our port. But our people have not taken full advantage of this instrument.
"It is called pre-arrival assessment report but so many persons have turned it to post-arrival assessment report. You are supposed to even before you begin to order your proforma invoice; go to your bank. Bank will give you Form M; you will upload to customs portal. Custom will look at it and approve. After approval, your bank will tell you it has been approved.
"At that time you are supposed to now begin to tell your shipper to bring the consignment. Between the time it is leaving there and the time it is getting here, the PAAR would have been ready. So even before the ship is berthing, the consignment would have been transmitted. You even have paid your duty in advance so as soon as container leaves the vessel, you can even begin to position for examination or scanning as the case may be.
"So that by the time it is getting to the point of you paying demurrage, you can carry your consignment and you are out of port. So no matter the trap they set for you to pay demurrage, you would have overcome that trap. But what we see is that people would have gone ahead to order for consignment, the consignment would have gotten to our water before they begin to go to bank to process Form M and go to custom portal.
"If by chance, CBN says let us take a second look at the request and there is a delay, what does that translate to, demurrage. We are asking people as the name goes, Pre Arrival Assessment and not post Arrival Assessment. We also heard cries that Custom issues PAAR and Custom queries PAAR. Custom will issue PAAR and query PAAR because if you go to equity with dirty hands, equity will turn its back on you. It will say see your hand. You are coming to me and your hand is dirty, but if you are clean, nobody will query you,"
Copyright Ships & Ports Ltd. Permission to use quotations from this article is granted subject to appropriate credit given to www.shipsandports.com.ng as the source.