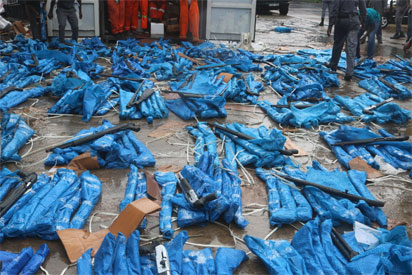 Deputy Superintendent of Customs, Nwaiwu Ginikanwa on Thursday told a Federal High Court, Lagos, how the businessmen who imported arms into the country through the Tincan Island Port, Lagos, were arrested.
Ginikanwa of Intelligence Unit, Tincan Island Command, Lagos, is the first prosecution witness in the trial of Ayogu Great James, Ifeuwa Moses and a company, Great James Oil and Gas Limited, alleged to have smuggled 1,570 pump action rifles into the country.
The witness, while being led in evidence by the prosecutor, Julius Ajakaiye, a deputy director with the Federal Ministry of Justice, said she was on normal routine surveillance on September 6, 2017 at the Tincan Island Container Port, Lagos, when she discovered the container on the list positioned for examination.
The witness said while inspecting other containers, an agent by name Ndubuisi approached her and gave her a photocopy of a Bill of Lading and that after inspecting the first container belonging to another person, she proceeded to carry out inspection on that particular container and discovered the guns.
She said, "On approaching the container, I saw two agents standing by the container with the container already opened. I noticed some cartons rapped in sacks with one of the cartons turned open."
The witness further told the court that on a closer look, she saw guns and that immediately the two agents, Ikechukwu Okafor and Ndubuisi, realised that she had seen the guns in the sacks, they quickly locked the container and ran away.
Ginikanwa said she quickly alerted her boss, Deputy Comptroller of Customs, Bomoi Sulaimon, who quickly drafted other operatives to join her at the terminal to secure the container while her boss also contacted Deputy Comptroller, Enforcement, Dera Nnadi.
The witness said she and the reinforcement from her unit were at the terminal until the arrival of the Enforcement Unit who took the container away for 100 percent physical examination.
"When I got back to the office on that day, I received a call and the person who called was begging me in my dialect to help secure the release of the container," she said.
The prosecutor, during the trial, tendered the certified true copy of the Bill of Lading given to Ginikanwa by Ndubuisi and was admitted as evidence.
Further hearing in the matter has been adjourned till January 16 and 24, 2019.