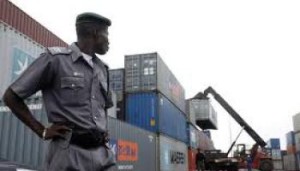 The Tin-Can Island Port 2 Customs Command, Ijora in Lagos, on Thursday, said it generated the sum of N649.11 million in March.
According to a statement by the command's Public Relations Officer  Godwin Andishu, the figure is N270.1million lower than the N919.6 recorded in February.
The spokesman said the figure was also N95.5million short of the N834.6million generated in January.
He attributed the fall in revenue to a decline in general importation activities but expressed the optimism that the figure would rise again as soon as activities picked up.
Andishu said the Area Controller, Alhaji Abdulkadir Dalhatu, had put in place measures to totally transform the command and make it a major revenue earner for the Nigeria Customs Service (NCS).
He listed such measures to include: blockage of revenue loopholes, training and retraining of officers and deepening of co-operation with stakeholders.
Andishu said that though, activities at the ports were currently low, the command would continue to do its best to record consistent rise in revenue generation.
The command had announced N8.12 billion as its total revenue for 2016.