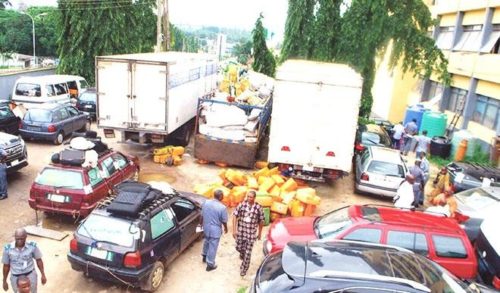 The Nigeria Customs Service (NCS) Niger Area Command has seized contraband goods worth over N142 million in the last nine months.
The Command's Area Controller, Abbas Kassim, who made this known in Minna on Thursday, said the seizures were carried out in different parts of the command.
The command supervises Niger, Kogi and Kwara state offices of the service.
Kassim said 189 live ammunition worth N63 million was intercepted along Babanna Wawa axis of Niger, 1,955 bags of rice worth N31 million was also intercepted in different parts of the area command.
He added, "We have seized 28 cars valued at N39 million and vegetable oil worth N1.2 million, as well as 189,000 textile materials, footwear worth N7.5 million."
He said that the command had already adopted community-based approach in the fight against smuggling.
The comptroller explained that the approach would enable residents, especially those at the border areas to offer intelligent information that could aid field officers to apprehend those involved in the illegal businesses.
He said, "We have also reached out to stakeholders, traditional and religious leaders to mobilise residents, especially those at the border posts to support our field officers with required intelligence information on the movement of smugglers.
"My area of supervision is no go area for any smugglers as we have put in place sensitive security measures that will frustrate their activities once and for all.
"We have also identified smugglers' routes and deployed competent officers on strict surveillance while community leaders would be used to provide information to ensure their arrest and prosecution.
"Our field officers had been briefed on how to fight smugglers."
Kassim warned that the service would not spare any arrested smugglers and urged officers and men of the service to rededicate themselves to duty.