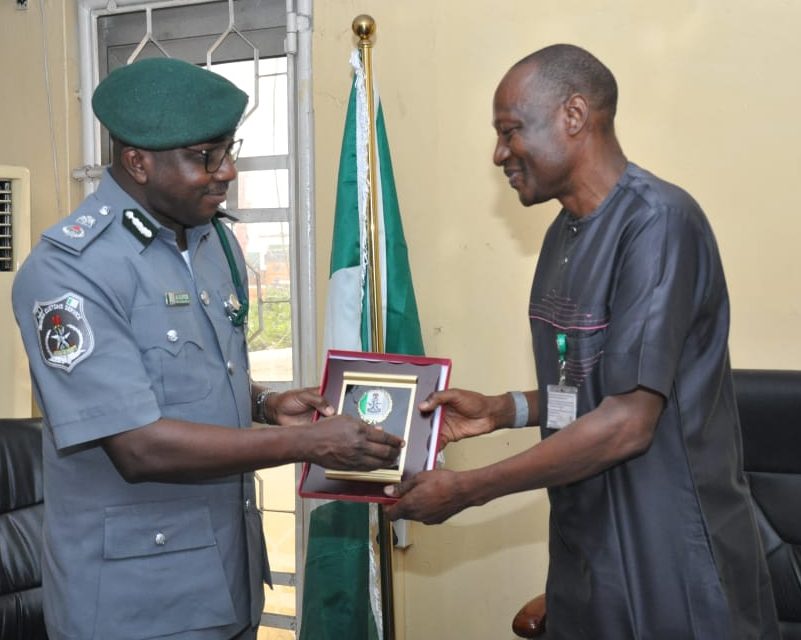 The new Customs Area Controller, Tin Can Island Command of Nigeria Customs Service (NCS), Comptroller Olakunle Oloyede has solicited the support of the Port Manager, Tin Can Island Port Complex (TCIPC), Jubril Buba, to ensure the command delivers on its mandate. 
Oloyede resumed at the Tin Can Island Command on February 14 following his deployment from the Customs headquarters in Abuja. 
Speaking on Wednesday when he visited the TCIP Port Manager, Oloyede said, "There is no way Nigeria Customs Service can do without the (Nigerian) Ports Authority. Even when I was a Special Assistant to some ex-Area Comptrollers, the first person to visit is usually the Port Manager before going to other stakeholders that are in the import/export transit supply chain. So, I deemed it fit since I've learned from my senior colleagues when I was their SA to make it a point of duty to visit the Port Manager.
"We have met unofficially at a forum but it is necessary that I come here today and ask and solicit for his unalloyed support. I need the support of all stakeholders most especially the support of the Ports Authority. So, I am using this medium today to ask for that. I'm sure without mincing words that I am in a safe place.
"This courtesy visit is important for me to see the faces of those that are making things work here at the port and to also present the members of my own administration that also make the work not too heavy for me."
Welcoming the Controller, the Port Manager, Tin Can Island Port, Jubril Buba expressed confidence in Oloyede's ability to deliver on the new task assigned to him. 
Buba used the opportunity of the visit to lament the delays associated with the clearance of non-oil export for shipment at the Tin Can Customs Command. 
"Port is known to be a Customs area; anywhere you want to enter, you are free. We are support services. The revenue generation function rests on your shoulder.
"I have known you and I have no doubt in your capability. The government is so much interested in exports. And to be candid, we know the challenges we face in Tin Can, especially the road, which places a major challenge. 
"When I came in, export was at its lowest. So, we began to ask questions as to what was really happening. There are so many factors that might probably play out. In some cases, the shipping line can determine.
"Now, we will meet with our exporters and tell them that you are in town and you are ready to speed up the clearance process of goods that are fit to go. And we will assure them that we will balance up.
"Sincerely, the rate at which exports are being delayed at the port corridor is alarming and worrisome to us. We are imploring NPA to create a place outside this facility where the containers would be examined and at the gate, we will check if the container has been tampered with and that would be all. 
"This would help us not to engage in another round of examination. So, the cargo will just go straight to the vessel. With that, it would reduce the dwell time of the cargo. That is what NPA is working towards," Buba said.
Copyright Ships & Ports Ltd. Permission to use quotations from this article is granted subject to appropriate credit given to www.shipsandports.com.ng as the source.