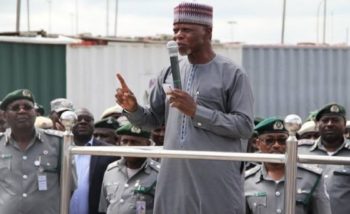 The Comptroller General of Customs, Hameed Ali has approved dissolution of the CG Compliance Team and the launch, in its place, of a new unit named 'Strike Force' to intensify the crackdown on smugglers across the country.
The Public Relations Officer of the Nigeria Customs Service, Joseph Attah said the previous team tagged the 'CG Compliance Team' was dissolved to sanitise operation while keying into the presidential order on the ease of doing business.
Attah said the new Strike Force is headed by the National Coordinator, Deputy Comptroller, Abubakar A.U., along with four Assistant Comptrollers of Customs who will oversee its operations at the four zones comprising Lagos, Kaduna, Bauchi and Port Harcourt.
To promote the ease of doing business, the new team which will be at the zones and training colleges will not erect checkpoints on the highways and will only be seen patrolling when they have credible information of smugglers' activities as furnished by the surveillance operatives who do covert operations.
The spokesman said Ali initiated this to ensure that there are no impediments to the free flow of doing business on the Nigerian highway. 
"On trade facilitation, there should be no unnecessary hindrance to trade on our highways," Attah said.
Part of the mandate of the team is to assess customs officers and their activities. He said, "It is empowered to enter into any command facility once there is suspicion of fraud with a view to blocking revenue leakages."
The strike force can also examine containers at the ports that are flagged by the ICT section along with other officers of the Service. 
"The operation of the Strike Force is in line with the demands of ease of doing business and to promote transparency and accountability in the Service," Attah added.