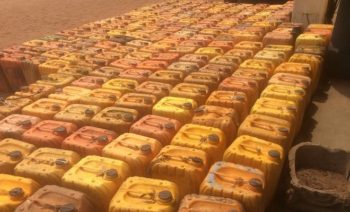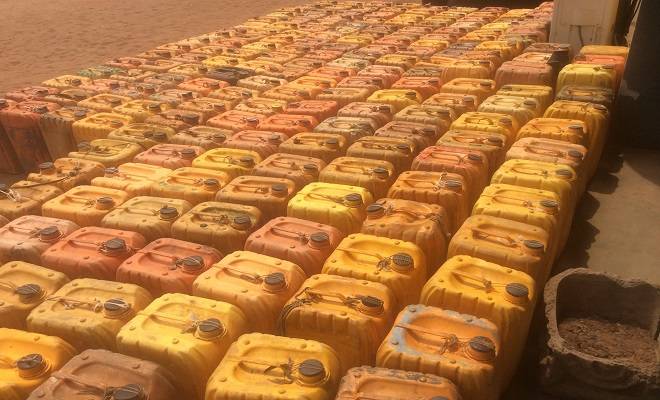 The Federal Operations Unit, Zone A of the Nigeria Customs Service (NCS) yesterday started auctioning 2,150 jerry cans of intercepted smuggled Premium Motor Spirit (PMS), also known as petrol.
The petroleum products were intercepted in joint operations by the Seme Customs Command of the service in December. 
Speaking to journalists, the Customs Area Controller of the unit, Comptroller Mohammed Uba Garba said the service decided to auction the petroleum products at city centre another to prevent the smugglers from having access to the auction at the border.
He also stated that proceeds from the sales will be paid into the treasury account of the federal government.
He said, "What you can see behind us here is 2,150 jerry cans of 25 litres of petroleum products that were intercepted by customs at Seme axis. The product were meant to be snuggled out of the country but were jointly intercepted by Customs and other security agencies.
"Also, the service decide to bring it to the city to auction it because auctioning in Seme means the smugglers can come from behind to get it and continue to smuggle so we decide to bring it to the city to a place where it will be auction at N2000 per Jerry can."
The CAC also stated that other security agencies in the country would be given the petroleum products free of charge because of their contribution to the fight against smuggling.
"The CG is magnanimous to say that part of the auction seized should be given to sister agencies like police, immigration prisons, Army, DSS among other agencies of government.
"They have contributed immensely to fighting economic sabotage so that is why we are here to give the police, prisons fire service. They should use it for their operational vehicles as they help to fight economic saboteurs. Also, the amount made will be paid in to the national treasury."
The Comptroller who the read riot act to smugglers said the service won't allow economic saboteurs to inflict hardship on Nigerians.
"Scarcity of petroleum products had been going on and since scarcity is going on we intensify our intelligence and activities and if there are unpatriotic elements trying to cause hardship we will broaden our views in collaboration with other agencies to get the job done," he said.