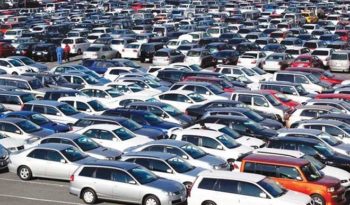 Contrary to insinuations making the rounds in some quarters that the Nigeria Customs Service has increased the tariff on imported vehicles, acting Public Relations Officer of the NCS, Joseph Attah said the Service has not changed the tariff on cars.
Attah explained that the little modification in customs duty was as a result of the instability in naira exchange rate against the dollar stressing that fairly used cars still attract 35 percent duty.
"The tariff has not changed, but if the people say the notice is a slight upsurge, it is just the function of the value of the naira now; against the dollar. But the tariff has not changed. Nobody has changed anything; it is the value of the naira that changed.
"It is 35 percent for the fairly used cars; and 70 percent for the new cars, that is. 35 percent customs duty and 35 percent levy. So, nothing has really changed", he said.
Attah said the Service is already in discussion with genuine vehicle dealers who will be granted license to operate bonded car terminals
"They were at the headquarters; they held interactive meetings with the customs management. And right now, they are putting the final touch on the modality that would ensure an ease of operations towards licensing the motor dealers to enable them operate bonded vehicles terminals, across the country, so as to ease ways of doing business.
"In other words, if you are a car dealer in Sokoto, now that you cannot bring in your cars through the land borders, it means that instead of complaining that Lagos is too far, all you need to do, is come together, agree on a bonded terminal; and manifest your cargo straight to the bonded vehicle terminal in Sokoto, so once it arrives at the seaport in Lagos, the customs service will escort it to your bonded terminal, just like we do, for any other bonded terminals that we escort imports to.
"Of course, there would be customs outpost in that your terminal. That way, any person that walks into your terminal to buy a car, can buy it, walk to the customs there and pay his customs duty there and go away!
"However, after a period of about one month, in a bid to ensure that the unsold may not fall into overtime cargo, you being the owner can simply pay the customs duty on them, and take them to your showroom, add the duty to the overall cost and continue to sell them there. Buyers will always come to your showroom and continue their transactions.
"Is that not what is today happening in Maradi and other places? For instance, when you go to Maradi to buy a car, don't they sell it? The problem is that when they buy in Maradi, they pay and smuggle the car here.
"So, all the authorities are saying is that if that can also be done in Nigeria, why don't we help you, to ensure that you don't go to the Maradi again. And you must also appreciate that this godly idea has some multiplier effects, once there is a bonded car terminal, commercials banks would open their branches there, because they would be a lot of financial transactions there.
"Similarly, mechanic villages or workshop would spring up around such places, spare-parts dealers would spring up around such places; food vendors would spring in around such places and these are the several job opportunities that this singular idea will create; to the several benefit of every Nigerian," he said.
Copyright Ships & Ports Ltd. Permission to use quotations from this article is granted subject to appropriate credit given to www.shipsandports.com.ng as the source.