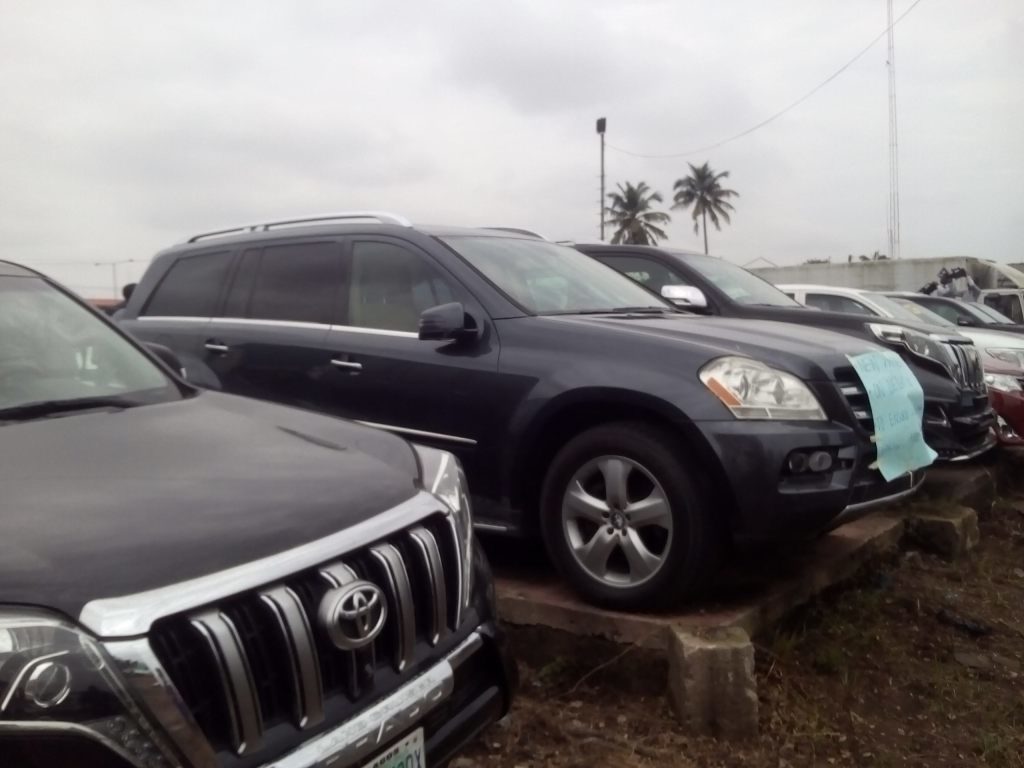 The Federal Operations Unit, Zone A of the Nigeria Customs Service (NCS) said it has impounded 113 expensive vehicles with a Duty Paid Value of N1.3 billion illegally imported into the country between February and April 15, 2019.
Other items seized along the vehicles include 1,000 sachets of tramadol, 600 cartons of codeine syrup, 13,810 bags of rice and other contraband worth N610 million.
Some of the seized vehicles include a 2019 model Range Rover, 2018 model Toyota Highlander, 2015 model Lexus Jeep, 2019 model bulletproof Lexus, 2018 Toyota Hilux, and a 2018 model bulletproof Range Rover, among others.
Head of the unit, Comptroller Aliyu Muhammed, who disclosed this on Wednesday while taking journalists round the seized items, said the vehicles were intercepted along Sagamu-Ibadan expressway while others were evacuated from different car marts in Lagos "based on credible information".
According to him, 60 of the vehicles have already been forfeited to the Federal Government while 50 are currently under detention.
While reaffirming the government ban on importation of vehicles through the land border, Aliyu said, "Anybody that wants to import vehicle should do so through the port and pay appropriate duty; then you will drive your car safely and nobody will disturb you. But if you decide to go through the bush, we are there.
"Moreover, bulletproof vehicles are not for everybody to use and if you must import it, you must have the End User Certificate."
On the seized drugs, the Customs boss said the cartons of codeine were seized along the popular Mile 2 Road in Lagos, and were neatly concealed in bags of rice without an approval number of the National Agency for Food Drug Administration and Control (NAFDAC).
"We have 600 cartons of codeine with a DPV of N240 million and each of the cartons contains 200 pieces. 
"We also have 1000 tramadol with 250mg per tablet; 1,056 cartons of chest and lung tablets concealed with paracetamol injection with no NAFDAC number. 
"I cannot say if this is worse than tramadol until when NAFDAC confirms the type of drug it is. You can imagine the effect this type of drug will cause on those that will consume them.
"I am ready to do more in the fight against fake drugs. The award given to me by NAFDAC will motivate me to do more," he said.
He gave the breakdown of other impounded goods to include a Dangote cement truck carrying 8,000 bags of 50kg foreign rice valued at N190.9 million and another truck carrying 450 bags concealed with soft drinks.
"Sometimes when you see Customs officers stopping vehicles on the road, you wonder what business they have with company vehicles but this is a truck used for cement with rice concealed inside. 
"We have our informants and will continue to use our intelligence to make more seizures," he said.
He said while no suspect was arrested, the means of conveyance would be forfeited to the Federal Government.