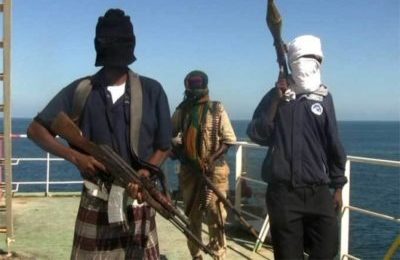 Armed pirates have attacked a product tanker at anchorage off Nigeria, the International Maritime Bureau (IMB) Piracy Reporting Centre has said. This is even as a Spanish warship came to the rescue of the crew members of another merchant ship, which had been held hostage by Nigerian pirates for four days.
IMB said four persons armed with automatic weapons in a speedboat approached an unnamed vessel at Bonny River Inner Anchorage on Monday, with two of the perpetrators managing to board the tanker and opening fire towards the accommodation.
"After the alarm was raised and PA announcement made, the ship's crew mustered in the citadel.
"The onboard Nigerian naval guards returned fire resulting in the persons retreating into their boat and escaping.
"One guard was injured during the shooting and was given first aid by the crew.
Two security boats responded and approached the tanker. The injured person was transferred to a security boat and taken ashore for medical assistance," the IMB Piracy Reporting Centre said. 
No injuries to the remaining crew were reported.
On the rescued crew members, the Spanish Defence Ministry said the merchant ship was freed in the Gulf of Guinea on Tuesday last week, April 9, 2019. 
The unnamed vessel was said to have displayed unusual behavior and did not respond to radio contacts, prompting the Spanish Navy ship Serviola to carry out an inspection.
As the navy crews were approaching the vessel in rigid hulled inflatable boats, the nine pirates onboard and who were reportedly armed with AK-47 rifles and grenade launchers, fled the scene. 
The authorities further said that the pirates robbed the ship's Nigerian crew in addition to looting a portion of the ship's provisions.
Serviola supplied food and drink to the crew and the merchant vessel proceeded to the Apapa Port in Lagos.