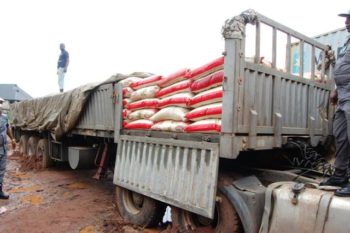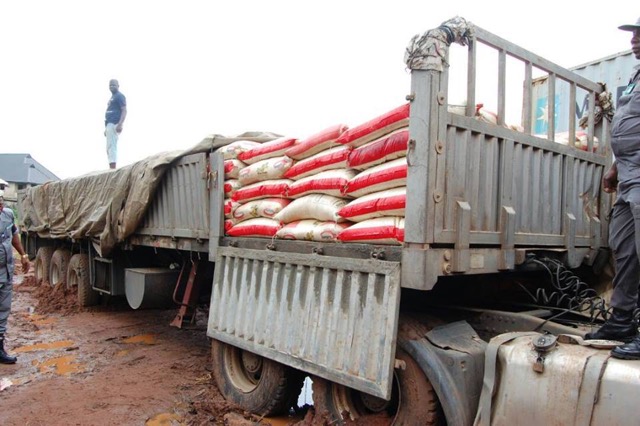 The Federal Operations Unit, Zone 'A' of the Nigeria Customs Service has intensified its war against rice smugglers especially as the yuletide season approaches as it impounded 3,000 bags of smuggled rice from 10 houses along the waterside of Ado Odo village in Ogun State.
This is in addition to a total of 128 various seizures of illegally imported items with a Duty Paid Value of N356.2 million intercepted between August 29thand October 3rd 2017.
Area Controller of the Unit, Comptroller Muhammed Uba who disclosed this while briefing newsmen in Lagos on Wednesday, said the unit also recovered N39.4 million from underpayments making a cumulative of N395.6 million within the review period.
Recounting how some of the bags of rice were intercepted, Uba said the officers, acting on a tip-off trailed the smugglers and were able to evacuate 3,000 bags of rice from 10 houses with the support of the military from 9 Brigade of the Nigerian Army.
"Just last week Friday, based on information, we trailed and evacuated 3000 of smuggled rice from 10 houses along waterside in Ado-Odo local government area of the State.
"Each of the houses has three exit doors for their nefarious activities. As we are evacuating the rice from another, the villagers were also busy packing the rice to the bush through other exit. This is to tell you the extent some people take risk while indulging in smuggling. They see smuggling as a way of life and an inherited business.
"As the year is coming to an end, a lot of activities come up. For this reason, we have put in place measures and other guidelines to making sure that these economy saboteurs do not go unchecked. It is along this line, we have been able to showcase these seizures and we will continue to do more," he said.
Giving a breakdown of the seizures, Uba said they include 11 used vehicles worth N125million; 4, 227 bags of rice worth N52 million, frozen poultry products, vegetable oil and Indian hemp.
In addition, he said a total of 14 containers were also seized for false declaration and breech of Customs law.
He said, "While seven of the 14 containers carried unprocessed wood, one container was carrying scrap metals and another one carrying wet blue for exports which all fall under export prohibition list. Also three of the seized containers were medicaments without appropriate import documents and certification. Two containers were carrying Made in Nigeria cables but imported from China, were declared as electric distribution board and ballast. Only God knows what would have happened if these products got into the market.
"The 11 seized vehicles are two Lexus Jeep GX460 and RX330, ONE Toyota Rav4, two Toyota Camry , five Mercedes Benz and and one Iveco truck ranging from 2007 to 2013 model respectively.
"Also we have 17 assorted vehicles in detention of various models. The vehicles were evacuated from car marts due to infractions noticed in their documents. As I speak with you, they have not been able to provide relevant customs papers on some yet but we have given them enough room to provide them. The vehicles under detention have a DPV of N141.8 million." 
Uba said eight suspects were arrested in connection with the seizures and 12 trials ongoing at the various courts. He said while three are criminal cases, nine are civil cases and one has been convicted and sentenced to seven years imprisonment.
The seized Indian hemp, medicaments and the cables have been handed over to the representatives of the National Drug Law Enforcement Agency (NDLEA), National Agency for Food, Drug Administration and Control (NAFDAC) and the Standards Organization of Nigeria (SON) respectively for further investigation.