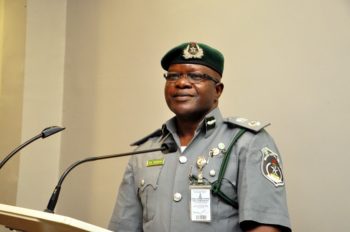 The Tin Can Island Port Command of the Nigeria Customs Service on Monday said it intercepted and handed over a 40ft container containing cartons of Spectradol (Tramadol) capsules of various milligrams, Spectra-Doxycycline capsules of various milligrams as well as Jinart Tablets to the National Drug Law Enforcement Agency (NDLEA).
Other drugs seized are Clarinthromycin tablets of 500 milligrams and Jincold-Extra Strength capsules of various milligrams.
Controller of the command, Comptroller Yusuf Bashar while handing over the seized pharmaceuticals to the officials of the NDLEA gave the identity of the importer as Jin Spectra Pharmaceutical Limited of No. 3 Festing Road, Kano and the clearing agency as Febeaco Nigeria Limited of 29, Apapa/Oshodi Expressway, Ibafon, Apapa- Lagos.
He said in a statement that the drugs were falsely declared as spare parts.
Speaking on the negative effect of the drugs on the teeming youths, the Customs boss stated that the products are highly regulated and Nigerian youths consume them illegally at an alarming rate and has led many of them into committing despicable acts.
He listed the number of seizures the command has made recently to include arms, cars and drugs even as he expressed regrets that an importer who declared pharmaceutical products as imported vehicles and the other container as containing computer accessories, has no good intention for the nation and the people.
Bashar, who linked increase in illicit drugs importation in the country in recent times to the 2019 general election, said, "It is not just about money but the health and well-being of the people. Every Nigerian should show care about the life of Nigerians and it is not about revenue nor trade facilitation but about the good of Nigeria and Nigerians, so this must stop." 
Receiving the consignment on behalf of the Chairman of NDLEA, the commander, Tincan Island Port, Nse Jack commended the Controller for his consistent commitment to inter-agency collaboration and synergy. 
He assured Customs that NDLEA will conduct further due diligence test to unravel details of the importer for possible prosecution.