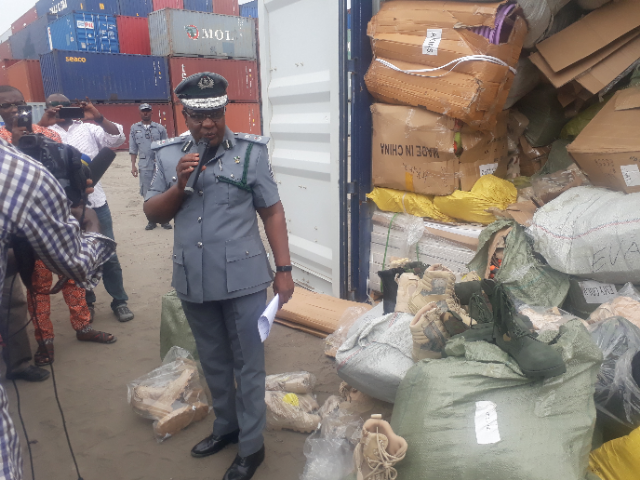 The Kirikiri Lighter Terminal (KLT) command of the Nigeria Customs Service (NCS) has intercepted a 40-feet container laden with 23 cartons of military boots consisting of 460 pairs.
Outgoing Controller of the command, Comptroller Lami Wushishi, who briefed journalists at the command in Lagos on Thursday, said the items were illegally shipped into the country from Bahamas.
Wushishi said the container which also contained other prohibited goods was falsely declared as cutting machine for aluminium products, but on examination, it was discovered to contain military boots and other various goods valued at N12 million.
"In the course of our examination, this 1/40 feet container which originated from Bahamas was manifested as cutting machine for aluminium product but on examination, we discover various items among these, we have 23 cartons of military boots, 118 cartons of wielding cable, 33 packages of aluminium wielding rods, 112 cartons of children toys among others.
"Immediately we saw this, we decided to examine the whole content of the container and we discover other items which were not manifested. All the items were not manifested which is absolute prohibition and false declaration and that is liable to seizure.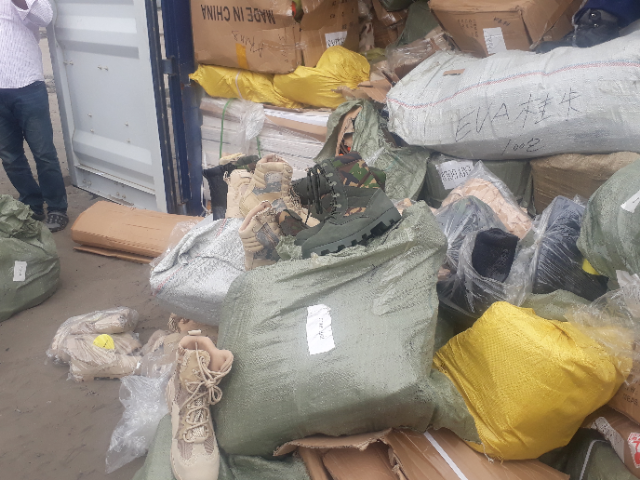 The Customs boss explained that military hardware can only be imported with necessary permit from the government which the agent failed to provide.
"This type of foot wear has to come from the military themselves with end user certificate because it is going to be strictly use by the military. With the insecurity we have in the country today, for such importation to come under the guise of various goods, it is liable to seizure," she said.
Wushishi said the agent is still on the run but assured that the Customs would track him down through his operating licence.
She said in view of the forthcoming general election, issues of security should be a collective responsibility, assuring that the command would not rest on its oars in its bid to suppress smuggling of prohibited and control products under any guise.
She urged importers operating within the command to ensure compliance with Customs extant laws and make genuine declaration to enjoy seamless cargo clearance.
On the command's revenue profile, the CAC said the command collected the sum of N5.8 billion, which represents 36 percent increase of its revenue target between January and August, 2018.
Wushishi, also handed over the reigns of the command to the new Controller, M.O Oladuni.