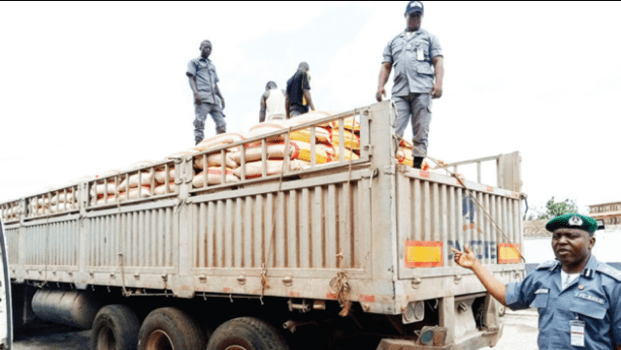 The Ogun Area Command of the Nigeria Customs Service said it has intercepted a Dangote cement truck along Ijoun border axis loaded with 600 bags of rice heading to the eastern part of the country.
Public Relations of the command, Hamed Oloyede, in a statement revealed that facilities belonging to multi-national companies operating in Ogun State such as Coca Cola are now being used to smuggle contraband into the country.
Oloyede who quoted the Controller of the command, Comptroller Peter Kolo, said three people have been arrested including the driver of the Dangote truck while investigation is ongoing to unravel those behind the act.
The Controller who spoke while reviewing the command's operation in the month of April said the command recorded seizures including 7,000 bags of foreign parboiled rice worth N189 million in the review period.
"It is important to note the catastrophic damage this quantity of rice will cause to the Federal Government Rice Agricultural Policy if allowed to get into the Nigerian markets.
"Several other contraband goods were also arrested in various quantities including frozen poultry products, Cannabis sativa (marijuana), vehicles used as means of conveyance, used clothing and shoes, used tyres, sugar, tomatoes in retail form, body creams and petroleum products (PMS) made for export.
A total sum of N 225,000 was generated from the auction sales of seized petroleum products and scrap metals in the command," he said.
The Controller restated that the command's intelligence network is still very strong as it has deployed intelligence in virtually all its operations in the area and greater successes are continuously being recorded on a daily basis.
"Let me warn criminal elements in the state that in whichever way and methods you plan your smuggling activities; we shall definitely uncover it, make arrest and inflict gross financial injury on such perpetrators," he said.