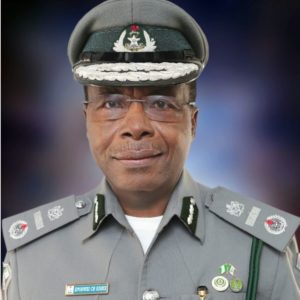 Former Zonal Coordinator in charge of Zone 'A' of the Nigeria Customs Service (NCS), Assistant Comptroller General (ACG) Charles Edike said the NCS realized a total of N1.607 trillion through him at the various commands and zones he has been privileged to head.
He also said that Zone A under his leadership generated the sum of N662 billion revenue from November 2015 to December 2016.
The zone comprises all Customs formation in the Southwest region including Lagos, Ogun, Oyo,Ekiti and Osun commands.
Speaking during a brief handover ceremony to the newly appointed Zonal Coordinator, Zone 'A', ACG Monday Abueh yesterday in Lagos, Edike who has been redeployed to the headquarters as ACG Human Resource Department (HRD), attributed the achievement to the crop of dedicated Area Controllers posted to the Zone by the Comptroller General.
He commended the Controllers for their support and cooperation even as he appealed that they extend and double the same support to the new Zonal Coordinator.
Edike also expressed appreciation to the Comptroller General of Customs for finding him worthy to serve as the Zone's coordinator within the review period.
"From when I got posted out of Apapa in November 2015 till now, the Zone raised N0.662trillion. As controller PTML, Tin Can Island port, Airport, Apapa and also as Controller Joint Task Force, Customs ICPC and EFCC, a total of N1.607 trillion was raised between me and my colleagues. I want to appreciate God for the opportunity to serve in all these commands and also as the Zonal Coordinator of this Zone.
"I also want to appreciate the Comptroller General of Customs who in his wisdom assigned me to this office that I am leaving today. All of this feat would not have been possible if not for the fine officers that the CGC posted here, the area controllers who worked with me to have raised this huge revenue. I appreciate all of you.
"The support you gave to me please shower it on the ACG Monday Abueh who is taking over from me so that he can also work and surpass the records that have been set," he said.
Edike thanked other partnering government agencies including the media for their support, which he said contributed in no small measure to the Customs revenue and anti smuggling effort.
"I also want to appreciate partner government agencies like the Nigerian Shippers Council, NIMASA, terminal operators and in particular, APM Terminals, NAFDAC, Army, Police and the media. We are thanking all government agencies that have partnered with us to enable us realise this beautiful revenue figures," he said.
In his response, Abueh said he was overwhelmed by the record of achievement of his predecessor promising not to let the Zone down.
He solicited for the support of the officers and the media to enable him succeed.
"I am not surprise at the level of success he (Edike) has recorded because he has served in various commands and has gone on various training and has built enough capacity to deliver service in Zone 'A'.
"We cannot succeed on our own because we work with intelligence and this we expect from Nigerians especially the media. When you give us credible information, I assure you we will make good use of it. So I am asking for your cooperation. That is what we need here to succeed," he said.