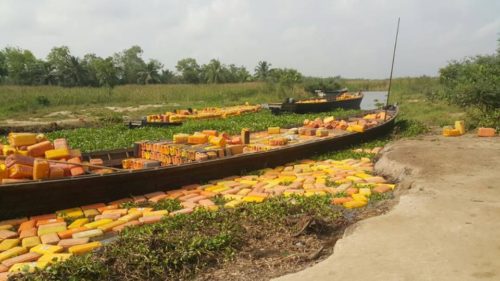 Customs Federal Operations Unit (FOU) Zone 'A' Ikeja has intercepted N1.5 billion worth of petroleum products on the verge of being smuggled out of the country to Benin Republic.
The petroleum product in 50,000 kegs was packed in about 12 wooden speedboats and was to be smuggled through Ijofin creek in Ipokia Local government of Ogun State before it was intercepted.
Assistant Comptroller General of Customs, Zone A, Aminu Dahiru, said the seizure was made possible by intelligence gathering.
He said, "This is a big seizure and it needed to be showcased because of the seize and the volume involved. We thought it is time to show Nigerians on activities of economic saboteurs and how we are dealing ruthlessly with them."
He also said that the speedboats used for the attempted smuggling would be forfeited to government.
"Well by law, the means of conveyance is liable to seizure but I don't know whether the speed boats have any value but at the same time it is forfeited to the federal government.
"We have seized petroleum products but we have never seized this magnitude. This is to show that those who are behind this are selfish that they do not care about the country but we will continue to strategize and be ahead of them.
Dahiru said the Customs operatives who effected the seizure would receive official commendation.