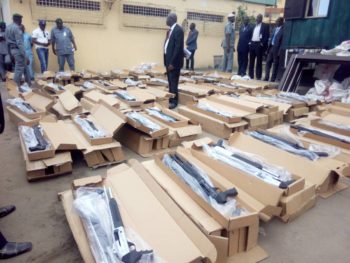 The Nigeria Customs Service (NCS) said it would soon conclude investigation into the involvement and culpability of some of its officers who cut and broke the seal of the container bearing the 470 pump action rifles intercepted at the Tin Can Island port command in September 2017.
Comptroller General of Customs, Hammed Ali, who disclosed this while fielding questions from journalists in Lagos, said those found culpable would be prosecuted.
He said, "Those who have been fingered as having been part of the connivance to cut and seal the container; I can tell you that we are in the process of finishing their investigation and we are going to take them to court just like the importers of the 661 rifles who are already in court.
"Any of our officers involved in the 661 firearms, if found guilty, will be jailed. Those that are also fingered in the 470 and 1,100 pump action riffles, once we finish the investigation, we have the powers to prosecute and we are going to prosecute them."
He however assured that reward awaits officers who intercepted the offensive containers.
"There is punishment and there is reward. The ones that discovered this by their due diligence will also be rewarded like we rewarded those that intercepted the 661. We have started the process. Ours is to write to the President, once the approval comes, we will hang their ranks," he said.
Since the beginning of this year, four batches of arms illegally imported into the country have been intercepted including the 661 made in January; 440 in June; 1,100 and 470 in September, making a total of 2,671.
Meanwhile, in a separate development, Founder, National Association of Government Approved Freight Forwarders (NAGAFF), Boniface Aniebonam has commended the Comptroller General for engaging stakeholders on the issue of arm smuggling.
Aniebonam who gave the commendation while fielding questions from journalists in Lagos however urged Customs and other security agencies of government operating at the port to be proactive to curtail illegal importation into the country.
According to Aniebonam, "What we needed to do is to ensure that the agencies of government are up and doing because businessmen will always want to maximise profit so they are always ready to cut corners. So it is all about agencies of the government to be proactive and I guess this is why the Comptroller General of Customs has come to discuss with stakeholders with a view to sensitizing them.
"There is a simple solution to this matter. It is proper Customs examination including technology that will solve all problems. Palletisation of goods will also make customs examination much easier and it is also going to be in the interest of shippers."