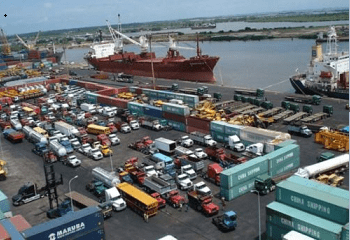 The Murtala Muhammed International Airport Command of the Nigeria Customs Service has said that the ban imposed by the Federal Government on local and international flights as part of measures to stem the spread of the dreaded coronavirus has affected its revenue generation.
Public Relations officer of the command, Joseph Ephraim, who spoke with SHIPS & PORTS, said the ban on flights, which affected importation through the airport, has reduced the volume of items coming into the country and therefore reduced the revenue collected by the command.
He added that the strike action embarked upon by clearing agents at the airport over the refusal of handling companies to grant demurrage waivers for goods stored in the airport warehouses during the COVID-19 lockdown had also contributed to the dwindling revenue of the command.
He said as a result of the general lull in airport operation, officers on ground were only carrying out skeletal work on clearance of essential commodity such as medicament at the airport.
He said, "The closure of the airport as a result of the Coronavirus pandemic has affected our operation as imports are no longer coming in the way they used to. So what do is just skeletal work especially on clearance of essential consignment such as medicaments, facemasks and sanitizers. Those are the ones coming in for now. We have been coming to work but the agents are not coming to work because of the issue on demurrage with the handling companies."