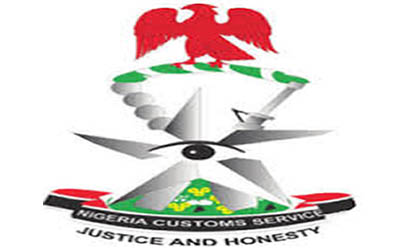 Controller, Seme Area command of the Nigeria Customs Service, Comptroller Muhammed Aliyu, says it has reclaimed the command's land that has over the years been encroached on illegally by unscrupulous individuals without due approval.
This is even as the Controller expressed his determination to ensure that miscreants and touts also known as 'Kelebes' who infiltrate the border and all the security agencies to perpetrate trans border crimes are flush out.
Controller Aliyu who stated this during the launch of an exercise code named 'Operation Flush out Touts from the Border' said the touts often impersonate officers or stand as imposters to deceive innocent travelers along the Lagos-Abidjan corridor.
He said he is leaving no stone unturned to ensure that illegal structures are demolished and those with approval re-directed to update their status by routing their request to the Comptroller General of Customs through the Command's helmsman.
He regretted how the Service land was overtaken by illegal occupants noting that the Land which was Gazetted since 1978 by the Land Act decree of the Federal Republic of Nigeria will not be allowed to be treated with reckless abandon.
He warned all trespassers to keep off or lose whatever resources they expended on the Land.
The CAC while responding to complaints from the representatives of the Nigerian Communities in the Republic of Togo used the opportunity to sensitize the gathering on the core functions of the Service.
He explained that most of the complaints were due to ignorance of the customs laws, while some who deliberately chose to trade on prohibited items connive and patronize the touts "Kelebes" to facilitate their illegal passage.
He restated that genuine and legitimate traders who are treated in the contrary has the option of the office of the Servicom/Public Relations Office to lodge their complaints or come to his office in order to facilitate legitimate trade through the corridor.
He warned genuine stake holders and those who were ignorant before now not to transact business with any imposters that are not completely dressed in uniform with name tag attached.
The customs boss restated his resolve and commitment in sanitizing the border command to meet with other international requirement in terms of appearance and standards.