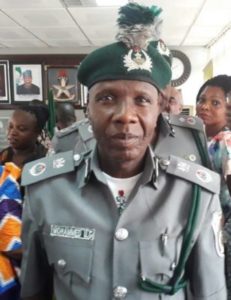 Comptroller Mohammed Uba is the Controller, Federal Operations Unit, Zone A, Nigeria Customs Service. He was recently appointed as the unit's head to ensure that anti-smuggling activities within the zone, covering the entire South West of Nigeria is effectively handled. Before his redeployment to Zone A, Uba served as Controller, Federal Operations Unit, Zone C, Owerri, Imo State. 
In this interview with Shulammite 'Foyeku at the unit's headquarters in Lagos, Uba speaks on the unit's effort to enforce government's fiscal policies.
Excerpts:
Could you give a brief account of your anti smuggling activities since assumption of office?
We have intercepted various contraband items worth N334million. Similarly, the unit through interventions recovered N273 million from duty payments and demand notices on general goods that tried to beat the system from seaports, airports and land borders in the guise of false declaration and short change in duty payment making a cumulative of N607.7million. The seizures include vehicles, 12 pallets of general calcium and vehicle batteries, bags of rice, frozen products and log of unprocessed wood ready for export among others. We also arrested 10 suspects in connection with the seizures but some have been released on administrative bail.
Is Customs not losing too much revenue by allowing most of these seized goods particularly some that are dutiable rot away?
Government is not a profit making organization. What is paramount for government is security. For example, we have a seizure of 2,322 pieces of used tyres in a truck concealed with two vehicles. Now, because of these two vehicles, are we now going to allow the people pay duty and carry the vehicles?  The vehicles are dutiable and so the importer decides to use the dutiable item to conceal goods that are not allowed to come in, for that reason, the whole goods are seized. It is a case of false declaration and even when goods are wrongly classified, instead of paying 20 percent , the importers puts 10 percent to short change the government, but we will not accept that. Government needs statistics. When you open your form 'M' and input all the necessary information in the system, with that you have given the statistics to the government. But then, when you go and do something different that will give government a false record and that will affect government planning and anything that affect government, will also affect us because government is the umbrella of all agencies. So we have to support, protect government revenue, fight anti smuggling and educate members of the public that they should desist from the nefarious act. Government is ready to assist genuine traders. As you may be aware, there are incentives in excise production and if you are doing export, government gives you 30 percent of the value of your export in order to encourage the exporter so that we get foreign exchange to develop our economy. So whenever government rolls out policy, it has a purpose for doing so. It is to protect the society. If other people compromise, we are on the road 24/7 to making sure that the right thing is done and contraband goods do not escape to the markets. We will make sure to enforce government directive on import and export regulations. If it is government revenue that must be collected, we make sure that such is protected. We are bound by rule and so if somebody does something contrary to the rule, there are no way we will look the other side. It is not possible, because we are policy implementers, we don't make the policies, we only implement and we will continue to do that until we are directed otherwise.
Do officers have discretion to raise DN that importers should pay more on a particular consignment?
There is nothing like discretion. If duty is not paid correctly, we put in a correct perspective for the importer or agent to pay. But when you talk of discretion, we don't do it because it will be abused.
There are complaints that operatives of the Unit still intercept containers on the highway. How long is the distance at which FOU operatives are suppose to operate from the port and what measures is the management putting in place to discipline officers who compromise by releasing contraband goods?
The Customs by it operational guidelines in section 147 of the Customs and Excise Management Act (CEMA) guarantees any customs officer without warrant to enter any where there is reasonable doubt that un-custom goods are being kept there to check the warehouse openly and evacuate the goods and bring them to the government warehouse. I am not aware of the five kilometre distance from the port but if you have the information as members of the press and you educate me, I will learn that from today so that next time it may be a point of reference. In any organization, we have issue of compromise whether in the customs, military or any government agencies. So it is for this reason, you find agents, importers and a few of customs officers conspire and compromise and that is why we are outside to compliment such in making sure that government revenue is not lost. When seizures are made, we write to the originating port and we invite the officers to come and explain the infraction and we send the report to the appropriate higher authority. Where officers are found to have committed such offence, there are avenue where such officer is punished. You are aware not long ago, because of these infractions, some officers have been dismissed, some have been retired and some have been demoted. So whenever we have any seizures and officers are found wanting, we apply appropriate sanctions as defined by the Service.
Recently, a CGC task force was set up. Will this not amount to overlapping of function by the task force and your operatives?
The federal operation is as old as the Service itself. The CGC task force is a national taskforce but it is an Adhoc assignment. The moment the assignment is off, they will wind up. Let me also draw your attention to the fact that if you see the CG task force anywhere, they have been directed to be domiciled in the four zones of the federal operations unit. Whatever they do for instance, when they bring goods, if they are seizures, we seize as well. If they are dutiable I am also the person who release as well and if there are any infraction, we address it same way too. So it is a temporary measure created by the Service which we know has a common purpose and in no distant future, it may wind up.
With the pending court case on the auction of seized goods by Customs, will the Service still go ahead to commence implementation of the auction exercise July 1st as announced or wait until the matter is settled?
Well, that will be the decision of the management. I am not competent to answer that question.
Oftentimes, we hear of clashes between Customs officials and smugglers at Ogun. What measures do you intend to put in place to reduce this clashes
Firing of arms is only done when the officer's life is at risk and it is usually done based on instruction from superior officers. However, we will ensure that casualties is reduced to the barest minimum.
What is your message to smugglers?
You will agree with me that smuggling is a global phenomenon which cannot be curbed entirely but can be bought to it barest minimum. My message to those still engaging in smuggling is to desist from illegal trade. Government is ready to assist anybody who is doing genuine business. We are here to facilitate trade but it is not going to be at the expense of security. For example, not all the seizures we recorded are contraband but they were seized because they contravened the importation law by bringing something not allowed to come in while others use goods that are dutiable but they put in goods that are not allowed and by our law, when you cover goods that are not allowed to come with goods that are allowed both goods are seized by the government. With that, money is lost, investment is also lost, so it our appeal that smugglers engage in legitimate business for their own good. I also want to appeal to the media to continue the partnership with Customs in the advocacy campaign against the evil of smuggling to the economy. There is always room for improvement and we will continue to intensify our anti smuggling operations within our areas of jurisdiction in order to ensure efficiency.
Copyright Ships & Ports Ltd. Permission to use quotations from this article is granted subject to appropriate credit given to www.shipsandports.com.ng as the source.