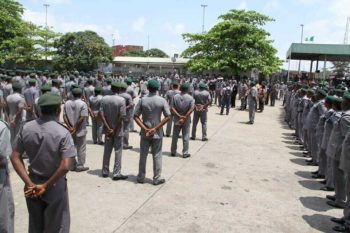 A group of officers of the Nigeria Customs Service (NCS) has cried out over what it described as ethnic and religious biases exhibited in the recent junior officers' promotion exercise carried out by the Service.
The Comptroller-General of Customs, Hameed Ali, had penultimate week approved the promotion of 775 junior officers.
A statement by the Public Relations Officer of the NCS, Joseph Attah, said the promotion was based on merit, while the availability of vacancy determined the beneficiaries. 
But in a video released weekend, the officers alleged that the promotion was biased and not based on merit as claimed by the management.
They accused the Comptroller-General and the Deputy Comptroller General, Human Resource Development, Ronke Olubiyi, of favouring officers from the northern part of the country.
According to the officers, of 3,216 who wrote the exam, only 427 representing less than 15 percent were promoted. 
"A total number of 3,216 officers sat for the exams, 28 Assistant Inspectors pursuing the rank of Inspectors of Customs, 417 Customs Assistant I pursuing the rank Assistant Inspectors of Customs and Customs Assistants III seeking the rank of Customs Assistants II respectively.
"Unfortunately, the outcome of the exam came with a serious bias. They promised to do it based on merit but rather; they did it based on family and friends. Most of the officers who got promoted are from a particular religion, tribe and geopolitical zone and the same thing had happened in 2016 where they promoted all their boys leaving behind those that are more intellectual. This is ridiculous. 
"Remember, we are your guards, we are your orderlies, escorts and we are the ones being sent to ensure full security of national borders. During these operations, some of our colleagues were assassinated in cold blood. Some were beaten up and robbed at the same time. The only thing you will do to appreciate our effort is to promote us and take care of our welfare packages. 
"Therefore, we are calling the NCS management to give us our right. This promotion needs to be looked at again. We do not accept it and we will never accept it because on no account should a 2012 intake get promoted while the 2009 set is left behind. 
"I wonder what kind of injustice is this. Moreover, with regard to our welfare package, we can't wait to see changes. If no immediate positive action is taken, we are going to call a press conference to expose all the dirty work you people are doing.
"Mr. CG, you are trying indeed as you meet the target revenue given to you on one hand, but in regard to welfare, promotion and salary, with due respect sir, you have failed. Remember, your success depends on our tireless effort. If we fail, you will also fail and we cannot be efficient when we are hungry. 
"Your attention needs to be drawn to what is happening in the HRD. There are a lot of partialities and sectionalism. Do checkmate them, if you are not aware, but if you know about it and do nothing about it, you will give account of that on the big day," one of the aggrieved junior officers, who did not disclose his identity, said in the video obtained by SHIPS & PORTS DAILY. 
However, the NCS spokesman, Joeseph Attah, when contacted, reaffirmed that promotion was based on merit.
He said that if any officer has complaint about the exercise, he should come forward to present his case.