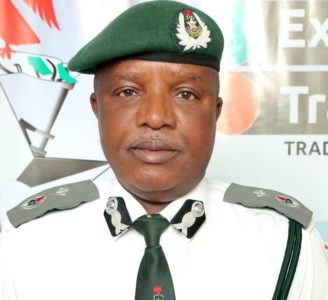 Some officials of the Nigeria Customs Service (NCS) have rejected the new uniform introduced by their management, describing it as "a misplaced priority".
The Service had last week launched the new uniform, which it said would be used alongside the existing ones. The new uniform has white top over the usual ash trouser with a tie to match.
A statement by the customs spokesman, Joseph Attah, on Wednesday, said the additional uniform is part of the ongoing reforms of the NCS aimed at giving officers additional outlook that befits a Service operating on high integrity standard.
But some senior Customs officers who spoke with SHIPS & PORTS DAILY said that the introduction of the new uniform is ill- timed and would not have any direct effect on Customs operations.
One of the officers, Samuel Affikku, who shared his post on Facebook, said, "We want better welfare package. We are sick and tired of stories."
Another post by one Muhammed Kudu Yusuf, said, "Old wine in a new bottle. Do something that will give a sense of belonging and you will see them give in their best for more revenue collection."
An officer based in Lagos, who spoke with SHIPS & PORTS DAILY on the condition of anonymity for fear of reprisal, said, "This is going to be a serious overhead on customs. I think it is ill timed and it will not really have direct effect on officers. If the funds were given to officers as welfare packages, they would have appreciated it more than uniform. The country is tensed, and people are not keen about what will make them spend extra money on frivolities like uniform.
"Of course, it is a normal practice for agencies to have different uniforms for different occasions but if they are bringing such to the public, they should have done the needful. By the time they are introducing it, they left the public to decide on what the uniform is all about. The government should be sensitive well enough to know when and how to do things."
Another officer, who also pleaded not to be identified, expressed his frustration over the matter saying the Customs management under the present leadership, has not shown interest in the welfare of officers.
The officer said there had been serious concern over officers' pay package despite the fact that it is the third highest revenue generating agency in the country.
He said, "What is uniform? Our welfare should be paramount; not introducing new uniform. Is introducing new uniform part of our welfare that they promised us? Our allowances, bonuses and the salary increment they promised us, none has been attended to. Even the recent promotion done was not base on merit."
Some Nigerians who reacted to the introduction of the new Customs uniform on the NCS official Facebook page also took a jab at the white coloured top and tie officers are required to wear.
One of them, Charlez Onoch said, "White uniform for Customs? I bet you, they can't maintain white with the type of officers I see at Murtala (Muhammed) Airport command. The shirt should not be white but a lighter ash colour that will go with the trouser."
Nnemeka Emmanuel posted: "Take the tie off. It is not in the settings of the military or paramilitary to wear a tie without a suit when it is not a ceremonial uniform."