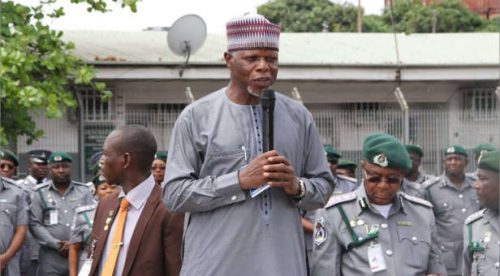 The Nigeria Customs Service (NCS) has decried a new policy by the Customs of Benin Republic, which restricts general cargo imports in transit, to the ECOWAS Joint Border post at Seme border.
Speaking with SHIPS & PORTS, the Controller, Ogun Area Command of NCS, Comptroller Michael Agbara, lamented the exclusion of other land borders including Idiroko-Owode border from importation of general cargo by the Benin Republic Customs. The development, he said, has affected the command's revenue collection while it has rendered officers on import seat redundant.
Noting that Idiroko is an approved border with Benin Republic, Agbara said the policy is against World Customs Organization (WCO) and World Trade Organization (WTO) conventions, which provide that importers have the right to choose the destination of their cargo.
He said, "The policy has rendered some of my officers who are on import seat redundant because there is no job for them to do and that will tell on my revenue. There are some clearing agents that are licensed by Customs to operate there but since there is no import, which job will they do? It means they pay the license fee for nothing and that is not good enough.
"We have many industries in Ogun State. It is very bad coupled with the bad road to go and pass through Seme. It is against international convention. We are all members of World Customs Organization and World Trade Organization. There is protocol on transit goods so Benin should try to abide by the international convention.
"I could have been happy if they can control the movement of rice. But they left rice and used vehicles, and say they are banning general goods, which as far as I am concern is not in good faith.
"The same way they can restrict general goods, they should equally restrict the movement of rice to Nigeria. If they do that, we will sleep but they don't control rice, they even allow them to have warehouse close to our border, which is not in good faith. They should be even handed. If they know they can control one, they should control all others because they all pass through their port and they know where the commodities are going.
"I have challenged them on this in several fora and we have made a report to the Comptroller General. The leadership of Customs is taking up the issue at the highest level. They have met with Foreign Affairs Minister because it is a government to government action."