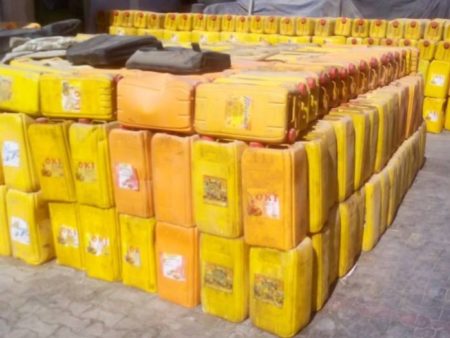 Residents along the Idiroko border town have accused operatives of the Ogun Area Command of the Nigeria Customs Service (NCS) of aiding smuggling of petroleum products to Benin Republic.
One of the residents and Secretary to the National Association of Government Approved Freight Forwarders National Association of Government Approved Freight (NAGAFF) Idiroko Chapter, Oluseyi Agbokere, who spoke in a chat with SHIPS & PORTS DAILY, accused "some unscrupulous officers" of collecting huge bribes from smugglers to operate freely at Buffer Zone, a border town between Nigeria and Benin Republic in Ajegunle-Idiroko axis to export petroleum products.
According to him, no fewer than 10 truckloads of petroleum products are being smuggled across the area daily; usually at night in connivance with Customs officers, filling station operators and smugglers.
He said, "It is still business as usual for the smugglers of petroleum products at Idiroko. They (Customs) don't care about it because they have collected their own settlement.
"In the midnight, they have officers that go to the filling stations where they are carrying out the operation and they collect returns from those filling stations. After patrol of the local government, they will go back to their base and the bunkerers will continue with their work probably till the early hours of the morning.
"The bunkerers will convey their kegs to the filling stations where they will fill and load it in their ford bus to Buffer Zone between Nigeria and Benin Republic in Ajegunle-Idiroko axis. After dropping it there, the Beninoise will now load it in trucks and take it to Benin Republic.
"Apart from the money for the settlement to the Customs directly, the Customs still have their patrol that goes to these filling stations on whichever day they are working in the local governments and each filling station has an amount they pay to Customs to enable them to work."
Agbokere said the presence of too many petrol stations along the border area, most of which he claimed are not licensed, has made smuggling of petroleum products easier.
He said the filling stations' operators sell the petroleum products into kegs to the smugglers for easy movement of the commodity to Benin Republic.
"The way filling stations are being built in Idiroko is a cause for worry. Most of them are built from pole to pole not minding that people reside in the area and they don't even have license from the DPR, but they know how they work in connivance with Customs. Because if the Customs are not allowing them to carry out their business, there is nothing they would have done.
"It is not hidden. When you go to the filling stations at night, you see them. The smugglers have days they use to work. In Ajegunle-Idiroko axis, they have the days they work, same as in Ijoko area. You will see them dropping the 30 litres jerry cans. They will have to fill all those jerry cans. Sometime, some filling station fill more than three trucks before daybreak
"For one to evacuate one truck that is 33,000 litres, the ford will carry full load six times to the buffer zone and in a situation where they have to load about three trucks, Customs will not collect peanut.
"They (Customs) don't want to know whether it is one truck or two you are loading, their own is you are working, and you must give them money," he said.
Meanwhile, two persons suspected to be a cartel of petroleum smuggling were burnt to death on Friday along the Idiroko axis.
"One of the filling stations along Idiroko road, while they were doing their bunkering business in the midnight, one of the ford buses that is being used to convey the commodities to Benin side caught fire and the driver and the motor boy died immediately while about four of them are still in the hospital receiving treatment," Agbokere said.
When contacted, Customs Public Relation Officer of the Ogun command, Abdulahi Maiwada said the command is doing its best to curtail smuggling of petroleum products along the land borders.
According to him, the command had made seizures of over 45,000 litres of petroleum products within the last one month.
"We have made seizures of petroleum products in Ogun command. Just last months, we seized more than 45,000 litres of petroleum product. This month, we have seized a truck containing about 45,000 litres of diesel and we have auctioned it including that of the petroleum products.
"We do auction on monthly basis. So we are doing our best because there is result. If the residents have any information they feel they want they share with us, we are ready to use the information to curtail and suppress the smuggling of petroleum products to the barest minimum," he said.