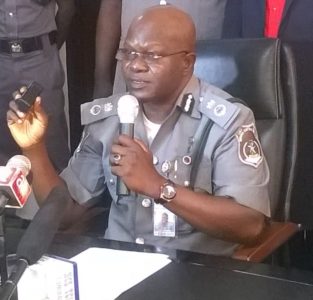 The Tin can Island Port command of the Nigeria Customs Service (NCS) said it generated N183 billion between January and August 2017.
A statement by the Public Relations Officer, Uche Ejesieme said Controller of the command, Comptroller Yusuf Bashar made the disclosure while profiling the activities of the command within the review period.
He said the amount is against the N156 billion generated within the corresponding period of last year.
Comptroller Bashar attributed the feat, which he said had been sustained since the beginning of the year, to deliberate creative policies and stimulus plans aimed at blocking all areas of revenue loss.
The Controller stated that the revenue for August alone stood at over N28 billion, which he said is the highest in the history of the command, particularly in the corresponding periods over the past years.
According to him, the command would have doubled its revenue profile if not for the exclusion of 41 items from Forex window.
He noted that the command is however becoming more thorough in its revenue drive by ensuring that all high yielding revenue consignments are closely monitored to avoid circumvention of procedure promising to sustain and surpass the revenue target of the command in line with the expectations of the management.
The Controller assured that the command will continue to develop adequate operational template and modalities that will be capable of entrenching integrity in its operations.
Comptroller Bashar express appreciation to the compliance level of stakeholders in the port to fiscal policies of the federal government on trade even as he advised the few recalcitrant ones to toe the path of sanity through honest declaration in their documentations.
Speaking further, the Controller also advised heads of terminals and other senior officers to exhibit high moral and ethical standard that would showcase quality leadership for the actualization of set goals and objectives.
On his plans for the ember months, the Comptroller Bahar advised importers to desist from importing unaccustomed goods saying that all Importers ought to be conversant with the external tariff, especially schedules 3 & 4 on prohibition other than trade and absolute prohibition.