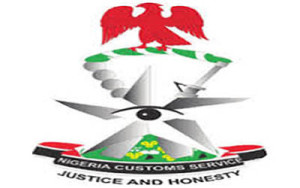 The South-East Zone of the Amalgamated Market Traders Association (AMATAS ) has raised the alarm over the worsening cases of extortion by security officials on highways in the country.
The President of the association, Chief Okwudili Ezenwankwo, who made the allegation while addressing traders at Oba, near Onitsha, accused men of the Nigeria Customs Service and the police of barricading highways to extort motorists and traders.
He said that the presence of customs men and police officers mounting road blocks to extort motorists and traders had made a mess of the anti-corruption campaign of the Federal Government.
He wondered why containers, belonging to traders should be stopped and searched at various points from Lagos and to the South-East by customs men and the police after such containers had been cleared at the ports.
He said, "We want the Federal Government to move customs men and the police out of the roads because the only thing they do is extortion.
"It is only in Nigeria you see Customs men on the roads.
"If they have anything to do with searching our goods, it should be at the ports or borders.
"Stopping containers on the road, searching and extorting money from legitimate traders is unfair."
He argued that the anti-corruption campaign of the present administration would only have meaning when the government addressed low-level corruption by security officials.
He said, "Forcing hard working Nigerians to part with their hard-earned money every day by policemen, customs men and other security agents should not be happening in the current dispensation."
The president, however, called for the activation of the Onitsha Inland Port to ease the suffering of importers and the difficulty associated with moving goods to the South-East.
He commended Governor Willie Obiano of Anambra for suspending taxes and various levies being paid by petty traders, hawkers and wheelbarrow pushers in various markets in the state.
Ezenwaknwo also lauded the State Government's plan to execute N10m projects in each of the 61 markets in the state.
The Chairman of AMATAS in Idemili, Chuma Eruchalu, said that extortion had remained a major challenge for traders in the country.
He said, "You find that goods after being cleared at the borders and ports, customs officials still keep disturbing consignments and extorting money from owners of such goods.
"Even when you buy goods in the open market across the country, they still extort money by seizing some of the vehicles in the hope that you settle them.
"You find police doing the jobs of customs and asking you to provide customs documents used for clearing goods."
Eruchalu told government to put the 'Change' mantra into action by calling security agents to order.
Copyright Ships & Ports Ltd. Permission to use quotations from this article is granted subject to appropriate credit given to www.shipsandports.com.ng as the source.