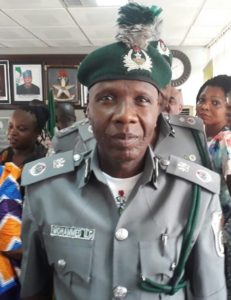 Controller, Federal Operations Unit, Zone 'A' of the Nigeria Customs Service, Comptroller Muhammed Uba has assured that the Service is ready to fish out and prosecute officers who aid release of goods with wrong classification, concealment, low duty payment and other forms of infractions from the seaports.
Uba stated this when the Founder, National Association of Government Approved Freight Forwarders (NAGAFF) Dr. Boniface Aniebonam led executive members of the association on a courtesy visit to the customs boss.
Uba who was responding to concerns raised by the association over improper customs examination which it said has given rise  to seizures of its clients' goods, promised to synergize with other controllers at the ports with a view to ensuring that consignments are properly examined before they are released.
"Any container we seized, the names of the officers who release them are already been forwarded to the headquarters and you don't need anybody to tell you what the reactions of the headquarters would be. With this regime, the officer is either going to be dismissed or demoted in rank. It is just a matter of time because of administrative and bureaucratic procedure. In no time you will hear it from the media.
"We have told the officers not to subject traders to unnecessary hardship because I feel bad when people cargoes are being delayed. I will also discuss this with controllers at the ports," he said.
While assuring that the unit will continue to protect traders' interest, Uba urged the agents to always give honest declaration stating that Customs takes no delight in intercepting importers consignments.
Speaking on the recent directive dismantling illegal check points on the high way, Uba said it is customs responsibility to implement government policies hence the directive will be strictly adhered to.
He however noted that the directive does not restrict operatives of the unit from patrolling on a 24 hour basis based on information.
"The Executive Order states that any checkpoint out of 40 km radius is illegal. A circular has been issued to that effect and must be implemented. Outside 40 km, if you see any road block, it is not a checkpoints but a patrol base and that one by law should not last more than 24 hours. If you see any, you are at liberty to report to the appropriate authority.
"We also know by the customs law that we are allowed to patrol everywhere freely according to section 147 of the CEMA which empowers a customs officer without warrant to search any premises where un-customs goods are kept and evacuate them to the government warehouse because we have seen cases of concealment, transfer of value and attempts to short change government of its revenue so government revenue must be protected," he said.
Earlier, President of NAGAFF, Increase Uche said the visit became necessary in view of the Presidential directive on the Ease of doing Business upon the issuance of the circular on removal of all illegal check points across the country.
While urging the customs boss to ensure the directive is fully implemented, Uche appealed to the controller to address the inherent abuse in the powers of the unit to patrol freely within the territorial boundaries of the country.
He also appealed to the customs boss that trade goods should not be unduly seized over minor infractions that could be corrected by additional assessment for duty.
"We in NAGAFF are worried over the level of damage being done to our clients investments arising from improper customs examination of laden containers. While we implore you to work on this matter, we also will plead that trade goods should not be unduly seized over infractions that could be corrected by additional assessment for duty and penalty thereto," he said.