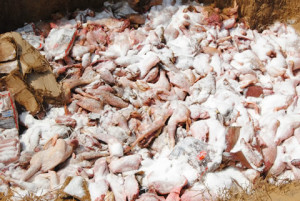 The Federal Ministry of Agriculture and Rural Development says it will collaborate with the Nigeria Customs Service (NCS) and relevant stakeholders to begin a raid of poultry markets across the country.
The ministry also said that it would ascertain the source of the products to determine whether or not they have been smuggled.
The Minister of State for Agriculture, Heineken Lokpobiri disclosed this on Monday during a visit to Amo Farm Sieberer Hatchery Limited in Awe, Oyo State.
He assured that the government of President Muhammadu Buhari was resolute about taming smuggling activities in the  country.