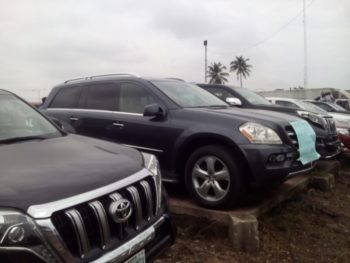 The Federal Operations Unit, Zone 'A' of the Nigeria Customs Service intercepted 27 new vehicles smuggled into the country through unapproved routes and other various contraband items worth N783 million between August 9th and 25th, 2017.
Addressing newsmen in Ikeja on Monday, Controller of the Unit, Mohammed Uba said the vehicles which include SUVs like Toyota Prado, Toyota Hilux, Toyota Highlander and Mercedes Benz among others, ranging from 2007 to 2013 models, were intercepted based on a tip off.
The seized vehicles, he said, were worth N228 million.
Uba said the unit also made 54 different seizures comprising 1,237 bags of parboiled rice, 1,393 pieces of frozen poultry products, 147 sacks of 10kg each of Indian hemp, 1,104 cartons of different types of medicaments, used tyres and other general merchandise worth N303 million within the review period.
He said the unit also recovered N252 million from duty payments and demand notices on general goods "that tried to outsmart officers at the seaport, airport and land borders through wrong classification and transfer of value". 
He disclosed that 16 suspects were arrested in connection with the seizures.
"Within this short period of time, we have made 54 different seizures. Out of these, 27 are assorted vehicles.  You can imagine the colossal damage if these vehicles are not arrested, government will lose its revenue. 
"These vehicles came through unapproved routes and the Federal Government policy on ban of importation of rice and vehicles are still in force and we will continue to make sure that these policies are implemented.
"We know smuggling is a universal problem but we will continue to do our best within the limit of our knowledge and logistics to making sure that smuggling in the south west one is brought to the barest minimum," he said. 
Uba said the pharmaceuticals which include Diclofanac, Tetracycline and Cemetidine among others were seized because they have no NAFDAC permits.
The seized Indian hemp and medicaments were handed over to the representatives of National Drug Law Enforcement Agency (NDLEA) and National Agency for Food Drug Administration and Control (NAFDAC) respectively for further investigations.
Deputy Director, Investigation and Enforcement Directorate, NAFDAC, Francis Onaniwu who received the medicaments on behalf of the agency said samples of the drugs would be taken to the laboratory for further investigations.
Principal Staff Officer, Operations and Intelligence, NDLEA, Lagos State Command, Lawal Opeloyeru expressed appreciation to the unit for its collaboration with the agency in making sure that the State is rid off the menace of illicit drugs.