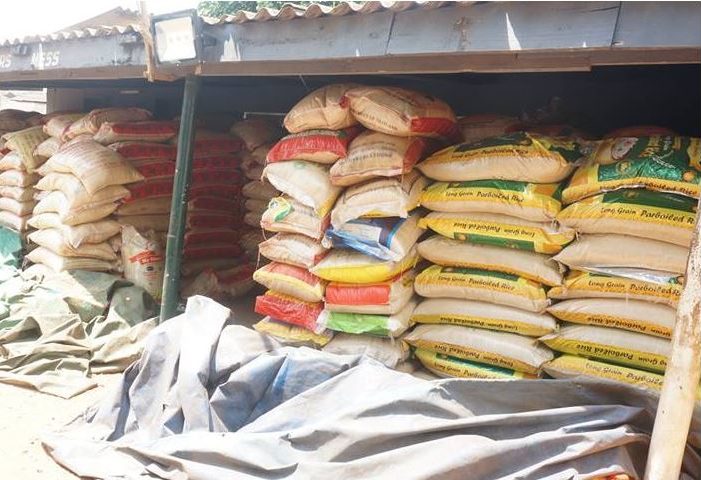 The Ogun Area Command of the Nigeria Customs Service (NCS) has uncovered antics devised by rice smugglers who specialise in rebagging foreign rice as locally produced ones to deceive unsuspecting consumers.
Controller of the command, Comptroller Micheal Agbara, who disclosed this while briefing newsmen on the command's activities within the last six months in Idiroko on Wednesday, said the command intercepted 501 bags of foreign rice re-bagged and disguise as locally produced.
He said the foreign bags of rice were mixed with 99 bags of locally produced rice to beat customs check but the command however foiled the antics.
He said, "During the period under review, unscrupulous mode of smuggling was uncovered by our patrol team when a truck loaded with 600 bags of rice out of which 501 bags were discovered to be foreign parboiled rice. Further investigation carried out revealed that the foreign rice was re-bagged in branded bags of a popular indigenous rice producer."
The Controller said that the truck was intercepted between Sagamu-Mowe Expressway, noting that the act was an ingenious way of smuggling rice into the country from neighbouring countries.
"The bags of rice were intercepted between Mowe and Sagamu. And I can tell you that this is an ingenious way of smuggling. We know elephant rice is a local producer of rice but the smugglers used their bags and out of the 600 bags, 99 are local rice while 501 bags are foreign parboiled rice in that same bags but different patent.
"Some of the bags of rice have 75 and another has 45 patent so it is through diligent examination that we were able to discover this and we have written to elephant rice to come and identify which is their original bag but up till today, they have not responded,"
Comptroller Agbara reiterated the need for border communities to see smuggling as an heinous crime against the country stating that being self sufficient in food production will help conserve foreign reserves and create jobs for teeming Nigerian youths.
"The government has in their own wisdom ban importation of rice through the border yet our people don't want to relent, they don't want to be compliant but in our command, we are ever ready and we will continue to do our best and seize them. That is why we are seizing large quantity of rice and other items that are not properly imported.
"We have been holding meeting with the youths and community leaders to tell them that the anti smuggling war we are fighting is their battle.  If the government create jobs it will be for Nigerian youths. If we feed ourselves, we will conserve our foreign reserves to the goods of our country and these items have health implications but we will continue to talk to them but it is not what will be done overnight," he said.
He said within the last one month, the command made seizures of 37 vehicles, 3000 bags of rice, 244 kegs of vegetable oil, 152 cartons of frozen poultry products, eight bales and 25 sacks of second hand clothing.
Others are 208 pairs of used foot wears, 115 kegs of premium motor spirit (PMS), 20 pieces of used second bags, 4, 220 cartons of tomato paste and one drone camera with a Duty Paid Value of N N236million.
He disclosed that his command within the last six months has raked in N2.6 billion as revenue with a total of 276 seizures.
"The Duty Paid Value stood as N1.4billion and items seized within the last six months include: 215 units of vehicles, 15, 976 bags of foreign rice, 1,148 kegs of vegetable oil, 24 units of 16 compressed book packs, 85 coconut packs and 8 sacks of cannabis sativa among other items," he said.