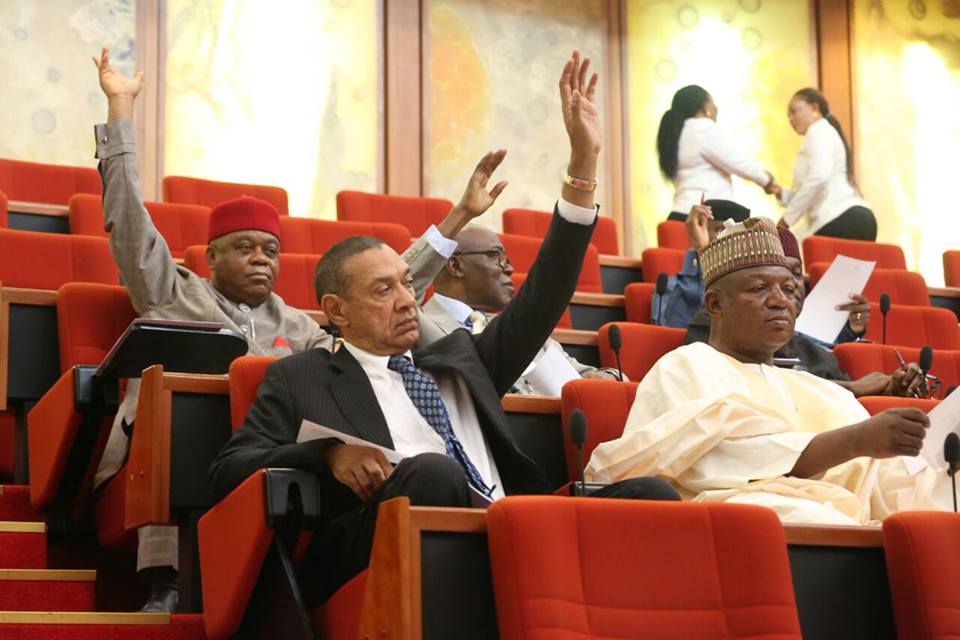 The Senate on Wednesday urged heads of agencies dealing with tankers and their drivers to ensure enforcement of strict driving laws of articulated vehicles following a motion by Gbenga Ashafa, (Lagos-APC) during plenary.
Ashafa drew the attention of the upper chamber to the incident of fuel tanker explosion at the Otedola Link Bridge which left 12 people dead and 57 vehicles destroyed.
The lawmaker recalled other accidents in Lagos and other parts of Nigeria caused by fuel tankers while urging the Federal Government to find an alternative means of transporting fuel.
He said, "The Senate is further concerned that there seemed to be a clear trail of preventable human error, lack of roadworthiness as the prevalent causes of these accidents.
"The Senate acknowledged that while the Federal Government has been working hard on revamping the Nigerian railway system, which would create an alternative approach to haulage of petroleum products (and) other products, there is an urgent need to enforce strict driving rules and roadworthiness of all vehicles plying Nigerian roads, especially articulated vehicles."
Senator Oluremi Tinubu (Lagos-APC), urged the Federal Government and interested individuals to build trailer parks so as to stem the congestion of the tankers on the road.
The Senate resolved to "urge the FRSC, Nigeria police and all other relevant agencies to cooperate with Lagos and other states in ensuring that drivers of articulated vehicles comply with both federal and states traffic safety laws.
"Urge the Nigeria police to work with FRSC to carry out a thorough investigation of circumstances leading to the accident that led to the fuel tanker fire with a view to prosecuting anyone found culpable in this preventable fire incident.
"Mandate relevant committees of the Senate to invite the FRSC and NNPC with a view to finding a legislative solution towards ensuring that before trucks are loaded, mandatory safety checks are put in place to ascertain the condition of the tank and the road-worthiness of the vehicles to haul the products."
An additional prayer, that the ministry of power, works and housing and state governments should accelerate the development of trailer parks and installation of way bridges to manage trailer movement on roads, was also adopted.
The Senate President, Bukola Saraki, said the incident could have been avoided if proper checks on vehicles and their drivers were made.   
Copyright Ships & Ports Ltd. Permission to use quotations from this article is granted subject to appropriate credit given to www.shipsandports.com.ng as the source.