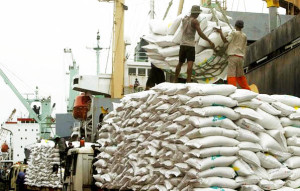 Public Relations Officer, Nigeria Customs Service, Wale Adeniyi has said that the Service is spearheading a total ban on importation of rice in Nigeria by the year 2017. Speaking at a forum in Lagos at the weekend, Adeniyi maintained that with so many agencies of government as well as State governments involved in interventionist programme on rice production in the country, there was already a bumper harvest declared this year, hence there won't be any need spending scarce resources importing rice which he said could be produced locally.
He said, "Rice is an obvious example of a product that has all it takes for all year round production in Nigeria.
"Several initiatives under this administration have shown that with the right political will, a revolution in agriculture will engage over 70% of the unemployed Nigerians and increase the GDP."
Adeniyi restated the need for Nigeria to look beyond oil and diversify. He said a number of export promotion incentives over a decade ago had failed to produce the required results saying that there had been serious abuse not only from the supposed beneficiaries but implementing agencies including Customs.
"I cannot stand here to tell you that Customs has gotten everything right. There are things we need to get right including procedures of export so that we can review them so that export processes is a lot better in our economy.
"A fundamental review of these policies is necessary to achieve the desired objective of making Nigerian exports competitive in the global market," he stated.
Adeniyi advised journalists to not only report activities at the port but also set agenda for local production capacity of Nigerian producers to satisfy local demands and other similar indicators.
He said, "States like Kebbi, Ebonyi and Lagos have made great strides in local rice production. The challenges faces by the farmers and efforts to meet those challenges should be promoted rather than the attention on the ports. As stakeholders, we must see ourselves as partners rather than observers in the march towards charting a new course for economic growth in Nigeria".
Copyright 2016 Ships & Ports Ltd. Permission to use quotations from this article is granted subject to appropriate credit given to www.shipsandports.com.ng as the source.