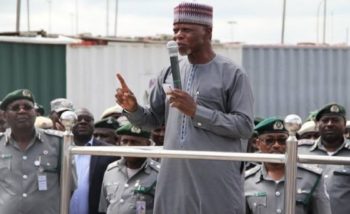 Barely one week after it promoted three officers to management level and redeployed eight others, the Nigeria Customs Service (NCS) is set to retire 577 of its officers, SHIPS & PORTS DAILY has learnt. This is even as the service has set a revenue target of N1.5 trillion for 2018.
The NCS had announced a total collection of N1.37 trillion in 2017, surpassing the year's target of N770.57 billion. It collected N898.67 billion in 2016, N903 billion in 2015 and N977.09 billion in 2014.
Comptroller General of Customs, Hameed Ali was said to have disclosed the revenue target for the year during the first management meeting for the New Year held last week at the Customs headquarters, Abuja.
Some key issues discussed at the management meeting, according to findings by SHIPS & PORTS DAILY, include the promotion of officers, which will soon to be approved by the board and the review of salaries.
Others were assurances of payment of bonus to Customs officials, and signing of approval letters for the lateral conversion of officers in the inspectorate to superintendent cadres.
On the retirement of 577 officers, a circular titled CIRCULAR NO/HRD/2017/003-LIST OF OFFICERS/MEN FOR STATUTORY RETIREMENT IN YEAR 2018' and signed by Sulaiman M.S.J, Comptroller Establishments, on behalf of Hameed Ali, the Comptroller General, listed a Deputy Comptroller General, an Assistant Comptroller General, 11 Comptrollers, 27 Deputy Comptrollers, 27 Assistant Comptrollers and 23 Chief Superintendents of Customs for retirement this year.
Last week, the service National Public Relations Officer, Joseph Attah, in a statement released the names of promoted and redeployed officers.
Amongst those promoted in acting capacity were Isa Talatu Mairo to Deputy Comptroller-General Tariff and Trade; Amajam Bukar, Controller, Federal Operations Unit Zone C, elevated to the rank of Assistant Comptroller-General, Enforcement, Investigation and Inspection; and David Elisha Chikan as ACG (Human Resources and Development).
"The CGC charged the affected officers to see their appointments and as opportunities to contribute their best towards consolidating the gains of the ongoing reforms in the Service," Attah said.
Other rank and file officers listed on the retirement notice include five Chief Inspector of Customs Terminal (CIC T); 21 Chief Inspector of Customs (CIC); 21 Superintendent of Customs (SC); 36 Deputy Chief Inspector of Customs (DCIC); 23 Deputy Comptrollers (DCs); 121 Assistant Chief Inspector of Customs (ACIC); four ACIC1; 131 Deputy Inspector of Customs (DIC); and one Assistant Superintendent of Customs 11.
Others are 83 Senior Inspector of Customs (SIC); two Chief Customs Assistant (CCA 'T'); 18 Inspector of Customs (IC); six CC; three Assistant Inspector of Customs; two Senior Customs Assistant (SCA); and one Customs Assistant (CA).
The affected officers are to be disengaged either on the basis of mandatory 60 years of age or 35 years in service, in line with the civil service rules.
According to the NCS, those affected are expected to furnish the headquarters with their notice of retirement on or before the end of March this year. The management also insisted that all those due for retirement must proceed on the mandatory three months pre-retirement leave, starting March 2018.
The retirement circular reads in part, "I am directed to forward the attached list on the above subject as a Pre-Retirement notice to all affected officers, adding "all affected officers due for retirement in 2018 are to disengage from active service and proceed on three-months pre-retirement leave, three months to the effective date of retirement.
"All affected officers are to ensure compliance and forward their three months pre-retirement notice to the Comptroller General of Customs accordingly.
"Any observed error, omission or legitimate complaints should be forwarded to the office of the Comptroller General of Customs on or before 31st March, 2018."